EliteBook Notebook PC Concepts Hands-On With HP's Eric Chen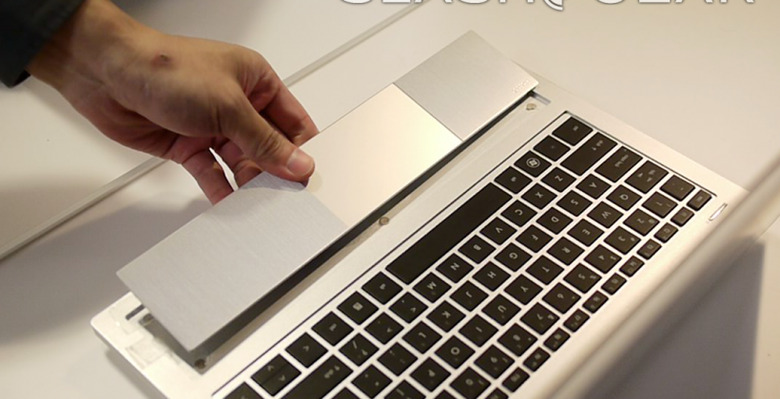 It's a rare occasion when you get to see the inner workings of the industrial design crew at a PC creation laboratory, but that's just what we got to do this week at HP's inaugural Making of Elite Tour for the world's press core. It's here that we got to speak with Eric Chen of HP Notebook Design and were allowed to gain some great insight into a bit of the grab-n-plug nature of iterations of devices. What we get to see here is a set of three EliteBooks, different versions on the way to the testing floor at one point or another, saved here for future projects should the need ever arise.
What Chen explains here in this lovely video filmed by your humble narrator for SlashGear is that as a device, here a notebook, evolves, so too do the potential pieces for that notebook. What you'll see literally is Chen popping out the section below the keyboard where your hands might rest, showing that there's just a spot there where a wide selection of materials might rest. There's another iteration that shows a full rubberized bottom to a notebook with an inductive charging section of metal. Different brushes on the metal can be seen as well.
[vms 87e9e29bd20e24f0c050]
This is but one of many different looks we've gotten over this tour, the rest up now or coming soon (depending on when you read this post) under our ever-expanding [HP Elite portal] also housing all manner of Elite posts from the past and the future as well. You'll find that we've also got looks at the testing these devices go through, the regulatory rooms that blast these devices with sound, energy, and environmental elements of all kinds, and some good old-fashioned smashing to round things out. Eric Chen in the video above gives you a look at some of the first steps before any of that happens.
Enjoy the video above and the gallery below and stay tuned as we continue our HP Making of Elite Tour coverage!