Elgato Stream Deck Review: Too useful just for Twitch streamers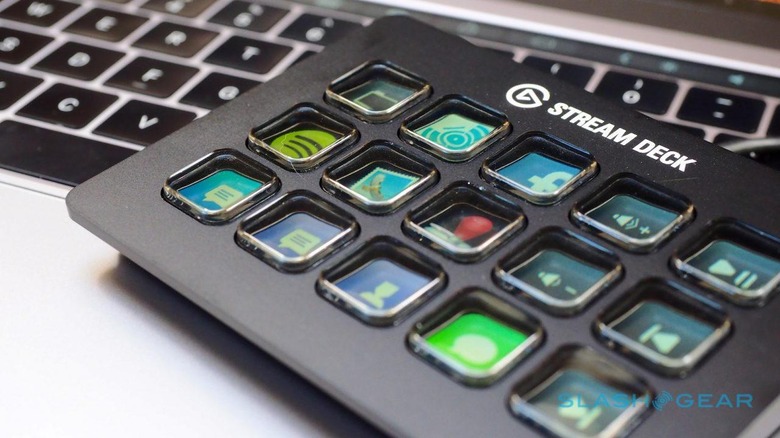 Elgato has earned a reputation for its gaming capture hardware, and many of the big game streamers rely on it to share their play to increasingly large audiences. Its newest product however, the Elgato Stream Deck, aims to help you raise your production game, with a set of customizable buttons that can trigger anything from Twitch messages to donation reactions. Clever, but after Optimus struggled to get its display-for-button keyboards to market, and Apple met with skepticism over the MacBook Pro's Touch Bar, has Elgato managed to buck the trend?
Hardware
What makes the Stream Deck special are its fifteen keys. Each is about 15 mm square and topped with clear plastic. Underneath there's an LCD panel which allows the legend for each key to be changed. Since Elgato's software supports folders, you could theoretically have up to 210 different commands triggered from a single key layout.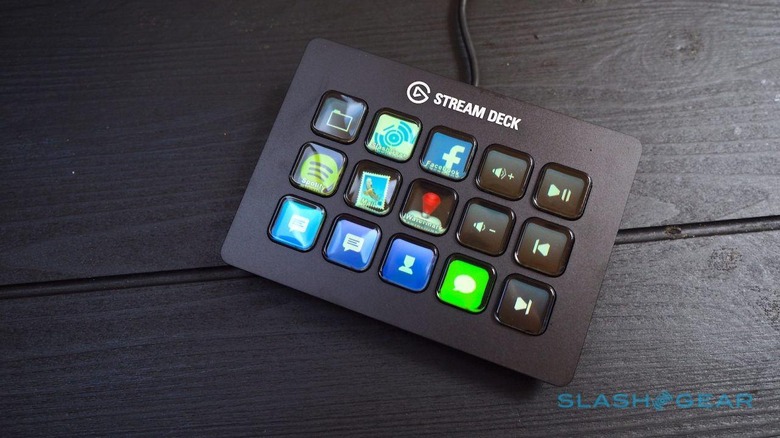 The Stream Deck itself is a compact 4.6 x 3.3 x 0.8 inches and 6.7 ounces. It's made of matte black plastic and sits on four small rubber feet; Elgato also includes an adjustable stand in the box, allowing you to prop the Stream Deck up at an angle. That's useful, as otherwise the panel is almost flat on the table, meaning you really have to look straight down on it to see the full extent of each button.
It's a clean design, though there are a couple of obvious improvements Elgato could make. I'd not argue with a plastic cover to protect the keys while the Stream Deck is rattling around in your bag, for instance. The USB 2.0 cable is fixed, too, whereas I'd prefer to have a USB port on the back so that you could use your own cable not to mention replace it should it get frayed.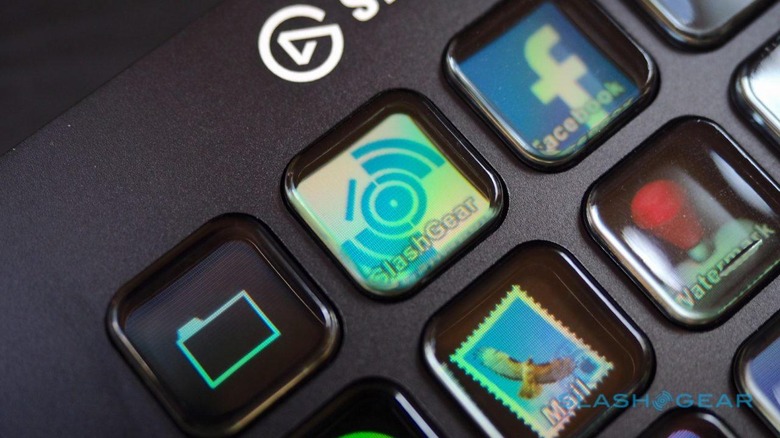 Software and Configuration
Setup is via the Stream Deck app, which is available for Windows 10 and macOS 10.11 or later. It's a straightforward drag-and-drop affair: there's a column of commands and options running down the right side, and you can drag them across to an empty space on the 5x3 grid on the left. Hovering over a new command on an occupied space automatically creates a folder, much as you can do with homescreen icons on iOS and Android.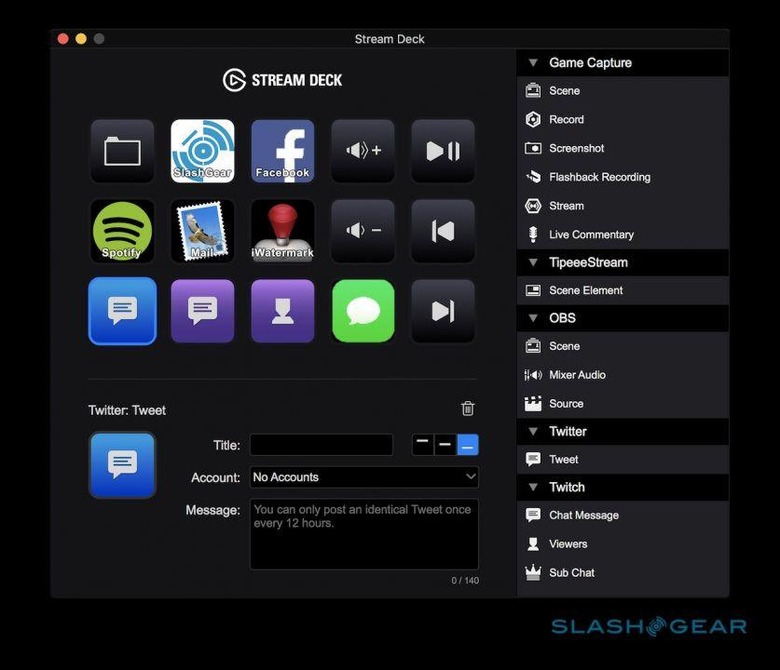 Underneath is where you can customize each button's assignment. If it's a Twitter command for instance, once you've chosen the account – Stream Deck allows you to log into multiple Twitter, Twitch, and TipeeeStream accounts and then choose between them as you configure each button – you can then pre-write the message you want sent out. Other commands – like Screenshot and Record in Game Capture – don't have any individual settings to change, though you can always give the button a title and choose where that text is aligned on the key.
Making the whole process easier is the fact that the physical Stream Deck updates in real-time as you customize it. You can instantly see whether the layout makes ergonomic sense under your hand. Individual layouts can be saved and shared: if your friend has come up with the perfect UI, you can load that file yourself and instantly get exactly the same.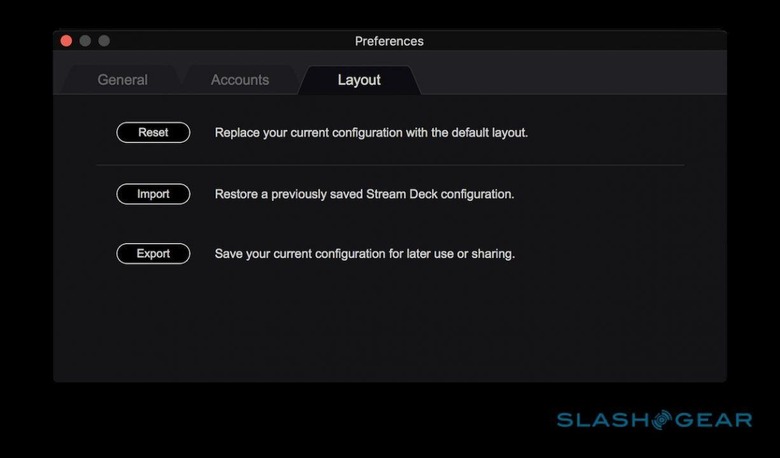 As a result, there's no one thing that the Stream Deck is solely focused on. If you host Twitch streams, for instance, you could have buttons to send out updates that you're online, check how many people are watching, and fire off "thank you" graphics if someone donates. If you're using Open Broadcaster Software (OBS) to host a show, you could set buttons for title sequences, switching audio sources, and triggering prerecorded clips.
Life beyond game streaming
Honestly, I'm not much of a gamer. Certainly not to the point where I'd be eager to share my gameplay with a Twitch audience. So while the Stream Deck's primary purpose as a broadcaster's control panel is neat, I was more interested in how it held up as an everyday shortcut panel.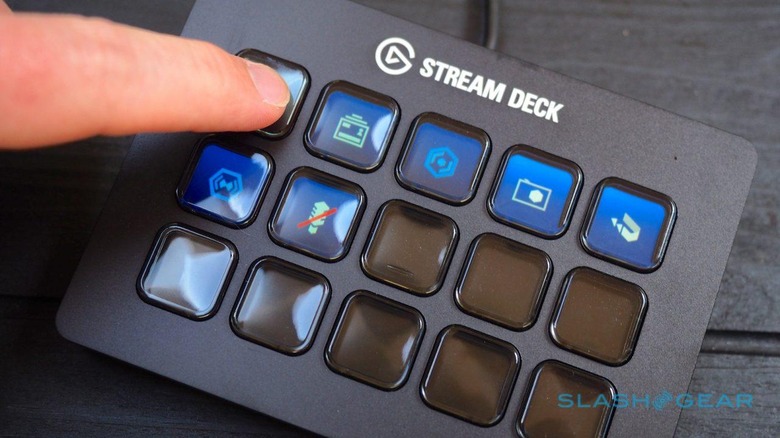 Elgato has five broad categories of system command that the Stream Deck can deliver: Website, Hotkey Switch, Hotkey, Open, and Multimedia. For a website you can pick the URL and, when the button is pressed, your default browser will open up a new tab for it. Hotkey and Hotkey Switch do much the same thing: Stream Deck learns a combination key press and then repeats it when the button is pressed; the difference is that the Hotkey Switch can then reverse that when the button is pressed again.
Open is arguably the most useful, since it can be mapped to any app or file on your system. Finally, Multimedia can be set to previous or next track, play/pause, stop, increase or decrease volume, and mute. If you want, you can customize each icon, either by uploading a PNG file of your own, or making a new one with Elgato's browser-based Key Creator.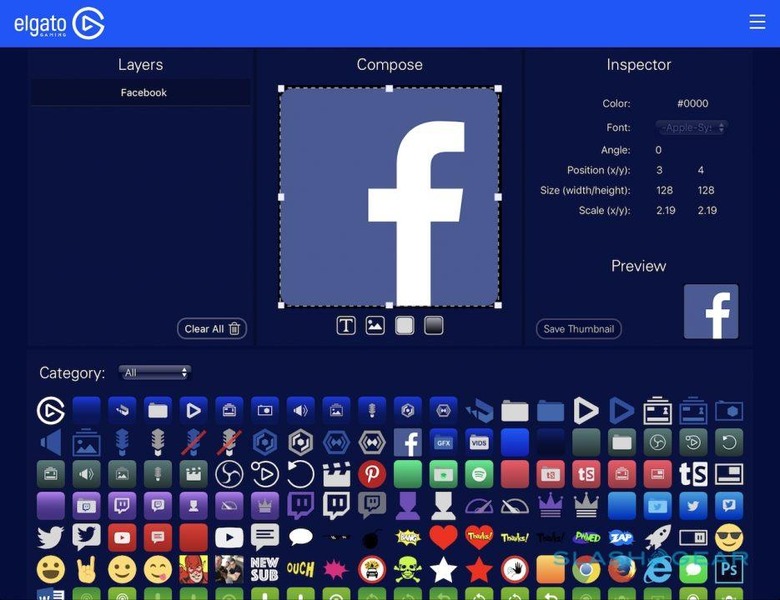 You could think of the results as similar to Apple's Touch Bar on the latest MacBook Pro but standalone, and in some ways more flexible. Unlike the Touch Bar, the Stream Deck won't change its layout according to whatever app you're currently using; you have to do that manually, either by loading a new button map or setting up different configurations in different folders. However where the Touch Bar won't let you map macros or complex keypresses to it, at least so far, Elgato is far more liberal with what the Stream Deck can do.
For instance, on macOS you could create Automator routines, save them as applications, and then map them to the Stream Deck. If you have a number of frequently-accessed files, you can have those as shortcuts too. Unlike how the Touch Bar only shows its media control buttons by default if they're actively expanded, or if your music app of choice is currently the focus, the Stream Deck's transport controls are visible all the time.
Wrap-Up
At first glance, I'm not the target audience for the Stream Deck. However, while I can see why live-streamers would love the little console, it'd be a waste to leave it just to them. Having it next to my MacBook Pro, I've found it has become second-nature to tap a button and jump around apps, websites, and commands.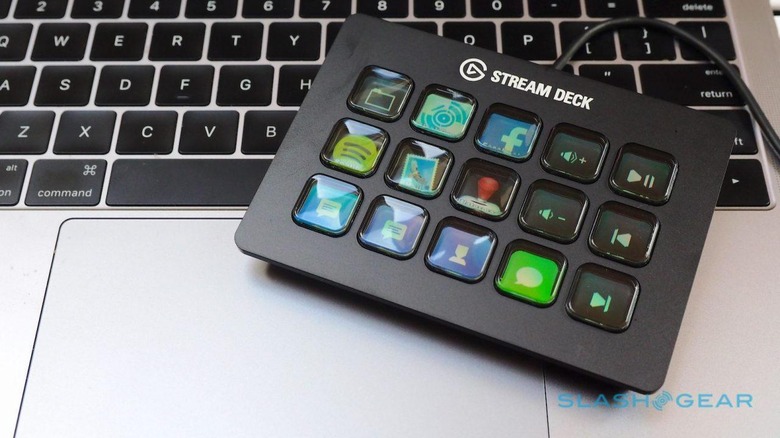 Is that worth $149.95? On the one hand, since you're merely replicating something a software UI and keyboard shortcuts could do, Elgato's price seems steep. Were I a streamer, it wouldn't be the first product I'd spend my money on: the trifecta of camera, microphone, and capture card still come first.
Yet if you're taking your workflow seriously, and want to raise your production values without expanding from a one-person studio, there's little out there to rival the Stream Deck's flexibility and customization potential. Factor in the convenience outside of streaming too, and there are plenty of good reasons why Elgato's add-on should find its way onto your desktop.