This week at IFA 2011 we've gotten hands-on experiences with more than a couple awesome devices, but none of them is as strange and oddly enticing as this one: the Elgato EyeTV Mobile, aka the world's first DTT/Freeview Tuner for the iPad 2. With this little bit of technology, you can turn your iPad 2 into a mobile television. Pause, rewind, and record at will. What we've got here is a quick look at this device as it exists at IFA 2011 this week – the real deal will be available sometime in late September in at least the UK and Germany, though will be sold through Elgato's online store so you'll be free to pick it up wherever you may live.
What you get is this little piece of hardware that you see in the photos above and below. What this little piece of hardware does is connect to your iPad 2's dock connector, receiving then television signals without the aid of an internet connection. You'll be able to download the EyeTV Mobile app from your iTunes App Store for free to work with the tuner in a very simple way. Want to get the weather report but don't have an internet connection down on your farm? Plug the EyeTV Mobile tuner in to your iPad 2 and BAM! Weather channel.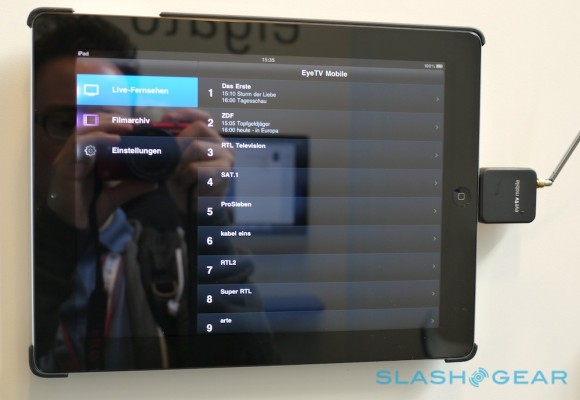 The EyeTV Mobile receiver comes with several things; a miniature telescopic aerial (MCX), a rod aerial with magnetic base and removable suction cup, a USB charging cable (which, mind you, charges the EyeTV Mobile battery, not the iPad itself, and a printed Quick Start Guide. You'll have to keep your iPad 2 charged up before you go about watching any television as your only port for charging will be taken up by this receiver which has no additional iPad cord port.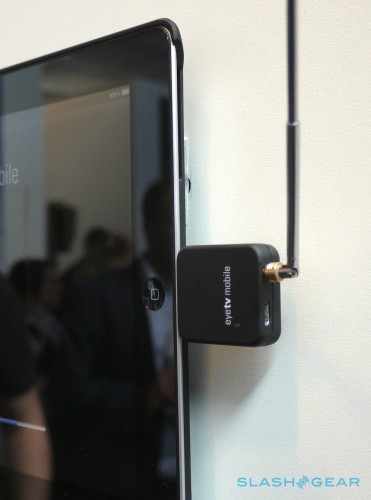 You'll be able to record shows played through your iPad 2 then transfer them using iTunes to watch elsewhere – note that there's no anti-copy protection in any of this.
Your iPad 2 will have to be working with iOS 4.3.3 or newer (not a problem if you're up to date at this point,) and you'll want to know that EyeTV Mobile supports MPEG-2 standard definition video only. MPEG-2 HD and MPEG-4/H.264 TV channels are not supported, neither are Freeview HD or DVC-T2. The EyeTV Mobile will be priced at EUR 99.95€/GBP 99.95£ and will be available in late September from Elgato at www.elgato.com or most computer retailers.
Sound like something you're going to want to pick up?