Elgato EyeTV App with AirPlay Functionality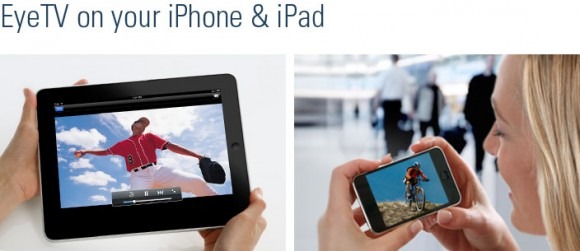 If you have EyeTV on your Mac, now you can get it on your iPhone or iPad as well. With the new app, you can stream live television over a 3G connection, as long as you have EyeTV already set up at home. The app converts live TV to the right format for view on an iPad or iPhone.
With the EyeTV app, you can:
Watch live TV and change channels anywhere (via a Wi-Fi or 3G connection)
Watch your EyeTV recordings
Browse the comprehensive Program Guide and view details
Start recordings back home on your Mac immediately or schedule them for later
View and edit your recording schedules
Automatically launch EyeTV on your Mac at home as needed
From your Mac, you will need to enable access from EyeTV for iPhone/iPad in EyeTV's Preferences window, and allow connections from EyeTV and EyeConnect in the Mac OS X firewall.
The app is $4.99 on the App Store.
There is also a free web app, which is a stripped down version, and still allows you to stream live TV over a 3G connection. It runs in the Safari browser. This might be a good way to test out the app before buying it. The free app is available here.
[via iTunes]