Elgato Eve Degree Review: A simple temperature & humidity HomeKit sensor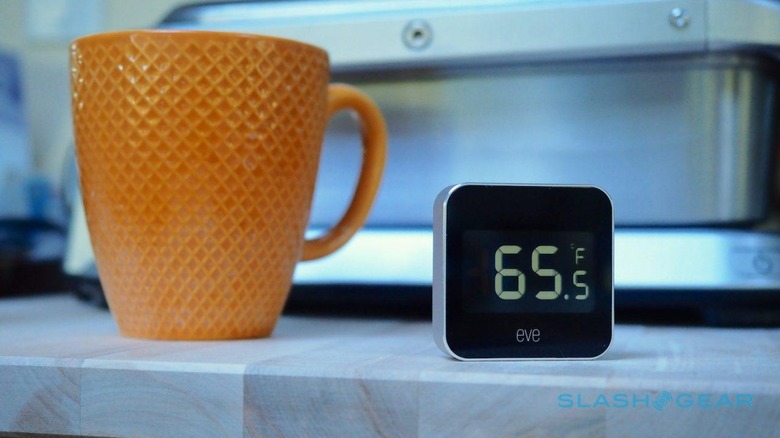 Apple's HomeKit may have had a quiet start, but third-party accessories for an iOS smart home are gradually picking up pace. Latest to store shelves is Elgato's Eve Degree, a compact temperature, humidity, and air pressure sensor, wrapped up in a simple and handsome design, and promising to be the smart trigger your connected home has been asking for.
Elgato's hardware is minimalistic in a faintly "Dieter Rams" way. The anodized aluminum body is water-resistant, so can withstand some splashes and even outdoor mounting if it's not getting submerged. Power is from a supplied coin-style battery which should last for around a year; you can replace it yourself. It uses low-power Bluetooth LE to communicate with your phone.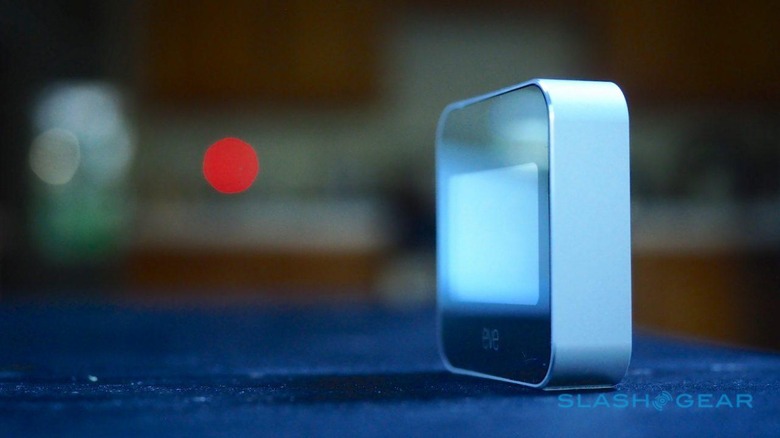 That's where you get data logging, with the Eve app keeping track of temperature, humidity, and air pressure measurements. It'll show them as a graph within the app, or allow you to export them for analysis elsewhere. Elgato is pitching it as an easy way for those with green fingers to keep track of their plants, as well as broader monitoring of home conditions.
You don't need to use Eve Degree with Apple's HomeKit, but it's how you make the most of the $69.95 sensor. On its own, it'll show temperature or humidity – you switch between with the button on the back – but linked to a HomeKit system you get data logging and the ability to integrate that data into HomeKit rules. Then things get far more interesting.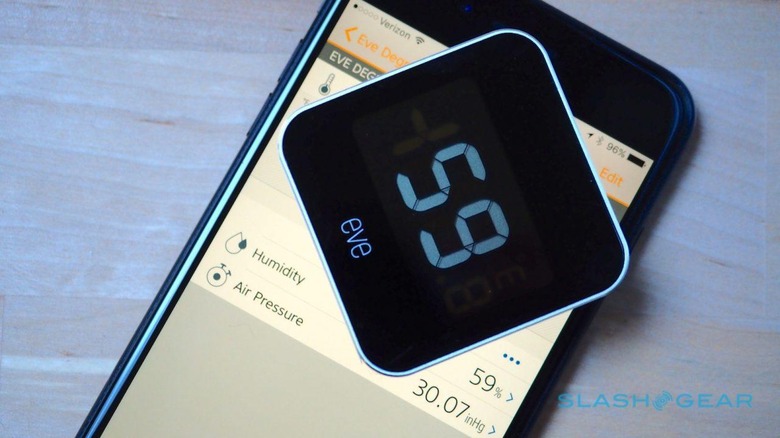 Setup is, like most HomeKit accessories, straightforward. Once you've turned Eve Degree on and installed the Eve app for iOS, you scan the eight digit code – printed on the bottom of the sensor and on the quick-start guide – with your iPhone or iPad. Then you can assign it to a room, give it a custom name (or, more accurately, two, since you can name temperature and humidity separately), and define your current elevation to get better results. If you don't know your elevation, Eve can figure it out if you grant location permissions.
After that, Eve Degree's temperature and humidity readings will show up in the iOS Home app. While you can set up new automations within that app, right now Eve Degree doesn't show up as a trigger. To create a rule, you need to head into Elgato's own Eve app.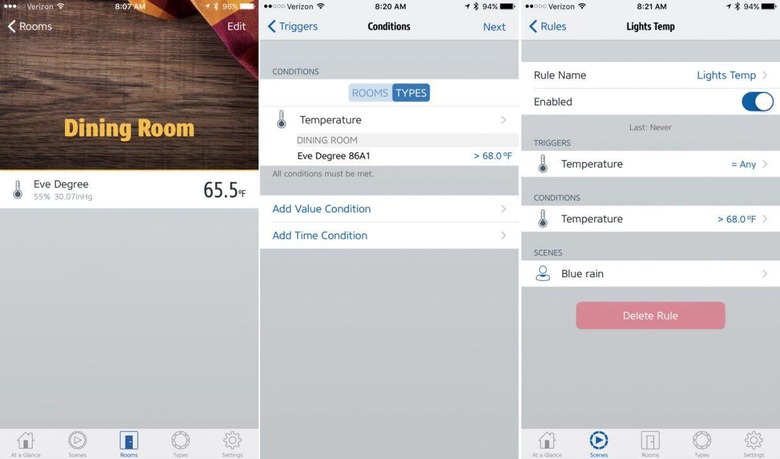 Again, it's straightforward. You choose whether you want temperature or humidity to be the triggering factor, set the values, add any conditions you might need, and then pick what you want to be activated as a result. Exactly what you can achieve depends on what other HomeKit-enabled smart home devices you have: I set a fan, plugged into a HomeKit-controlled outlet, to turn on if the heat rose above a certain threshold, for instance.
Unfortunately if you're an adoptee of another smart home platform, Eve Degree won't play nicely with it. You'll also need a fourth-gen Apple TV if you want your rules to work when your iPhone isn't home. The monochrome display isn't backlit – presumably that would ask too much of the battery – and, combined with the glossy front glass, can make it hard to see the current read-out because of reflections. There's a hold for wall-mounting on the back, but I'd like to have seen a self-adhesive pad or sticky Velcro in the box to give another, tool-free option.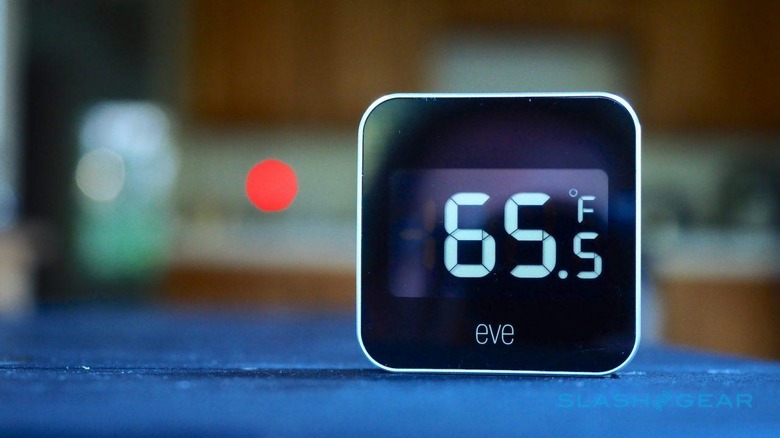 Eve Degree only really makes sense if you're planning to use it in a smart home system. After all, you can pick up basic temperature and humidity sensors for a fifth of the price, even if they don't have the same app-based logging ability as Elgato's. If you're looking to make your home or office more intelligent, however, being able to use Eve Degree as a trigger could be invaluable. Hooked up to a connected thermostat it could trigger the heating or A/C from a different zone, for example, or turn on water-misters for your hydroponic setup if the air gets too dry.
That's of course going to depend on what other HomeKit-enabled gadgets you already have. Still, if you're an iOS family and looking to kick-start your home automation, Eve Degree is a no-brainer addition.