Elgato Avea Bluetooth LED Bulb Review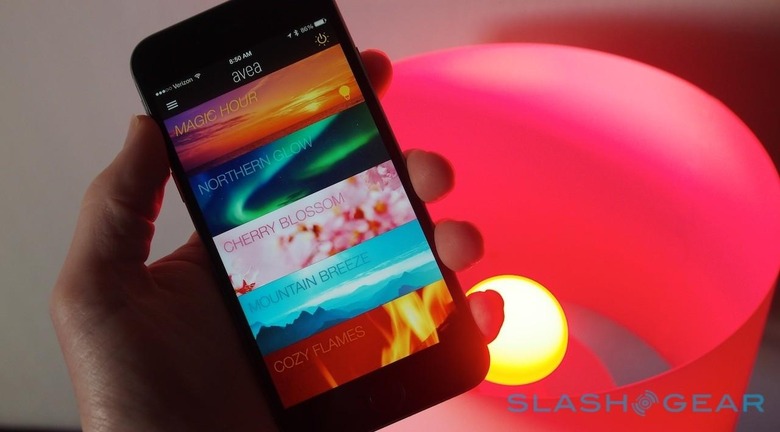 The democratization of the smart home continues, and nowhere is it more visible than in color-changing wireless light bulbs like Elgato's Avea. Pairing Bluetooth Smart with multi-color LEDs and a simple iPhone and iPad app to command them all from across the home, Avea isn't the first such bulb to the market, but with a street price of around $39.95 it's certainly one of the more affordable options. Beyond questions of whether remotely-controlled bulbs are actually necessary, then, has Elgato made a hue-killer or just another flash in the pan? Read on for my full review.
Elgato's bulb is a regular E27/E26/A19 screw-fit, with a 7W LED good for a claimed 430 lumen brightness. That's slightly brighter than the Lumen Tabu Bluetooth bulb I reviewed earlier in the year, which clocked in at 400 lumen, but dimmer than a Philips hue bulb, which manages 600 lumen. You notice the difference if you're relying on a single bulb to illuminate a whole room.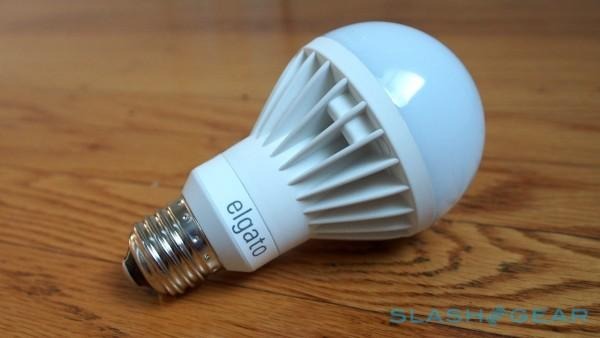 Setup is simple, as long as you're an iOS user. Download the free app – you'll need an iPhone 4S or later, iPod touch 5th-gen or later, an iPad mini or an iPad 3rd-gen or later, and to be running iOS 7.1 or newer – and it starts hunting for a bulb as soon as you load it.
Screw the Avea in and pairing is within seconds; you can rename the bulb if you have several to manage. As with hue and any other such wireless bulb, you'll need to keep the physical switch for your light fixture turned on, and rely instead on the app for control. Bluetooth Smart's range was good enough that I could command the bulb from up a floor and across the house.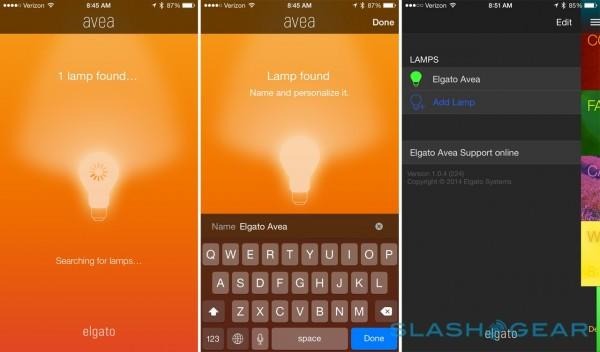 From there it's a matter of picking a color. Rather than a color-wheel you drag your finger around, Elgato breaks things down into green, yellow, orange, red, purple, blue, and white categories. Within each, you can adjust brightness as well as make more minute adjustments, using two sliders at the bottom.
It's worth noting that simply hitting the color category doesn't actually change the bulb color straight away: instead you need to hit "Activate". After that, any brightness tweaks or other adjustments are instantaneous. Colors themselves are fairly bright, though a hue bulb offers more saturation, at least to my eyes, and Philips' range of white tones (from cool through to warm) seems broader.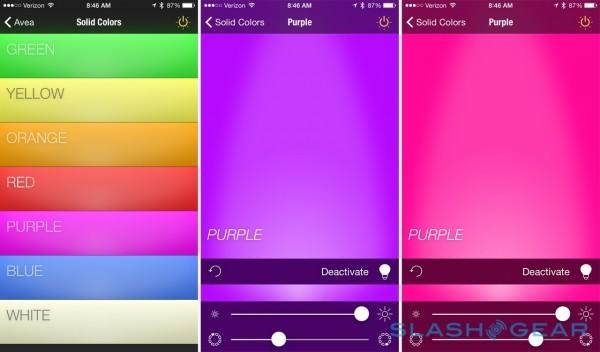 Elgato also offers a selection of "dynamic scenes" which are effectively color-changing presets. Cozy Flames, for instance, starts the bulb cycling semi-randomly through various red and orange tones; Northern Glow does the same, but with blues and greens. I can't say it actually left me feeling like I was surrounded by the majesty of the aurora borealis – perhaps that's a bit much to ask from a $40 bulb, admittedly – but it can be nice mood lighting if the room is dim enough.
Unfortunately, there's no way to program your own presets, and indeed settings for the seven Elgato includes are limited to control over brightness. You can't change how fast or slow the colors cycle, or indeed which colors are included, and there's nothing so advanced as lights which react to music or what's on TV.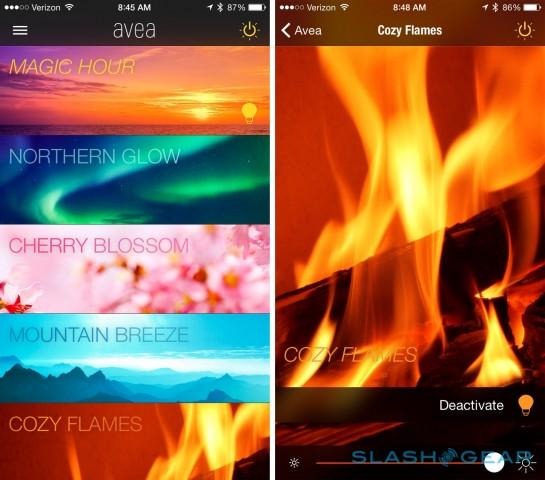 Elgato's eighth preset is Wake-Up Light, and as the name suggests it's intended to gradually wake you up with something akin to the dawning sun. Set a wake-up time and the bulb will gradually rise in brightness to help you surface more smoothly, at least in theory. You can optionally have an audio alarm, too – either built-in birdsong, or your choice of track on your phone – and set more than one bulb to be involved if you have several.
Scheduling functionality is basic, however: a single time. There's no support for a weekly routine, say having the lights come up at one time on weekdays, and a different time at the weekend. You don't get a timer, either, to shut the lights off after a certain period.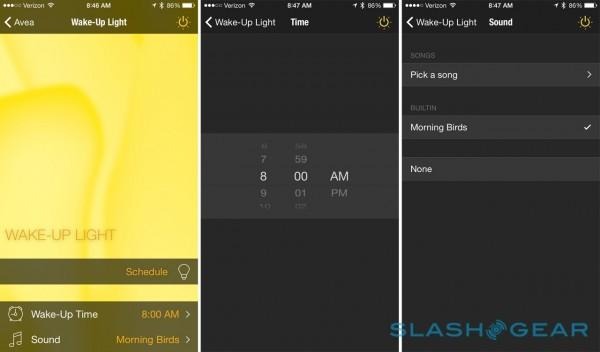 It's not the only shortcoming of the app. You can group multiple bulbs together, and adjust them simultaneously, but not save the settings once you've got them adjusted to your liking. That means, if there's a certain amber glow you like for settling down in front of the TV of an evening, you'll need to finesse the controls each time.
The absence of Android support – something Elgato says is coming, but doesn't have a timescale for – limits usefulness to an iOS-only home, but neither has Elgato taken advantage of every possibility iOS 8 provides. There are no scene or power shortcuts in the iOS notification tray, for instance, which forces you to open up the app whenever you want to turn lights on or off. Similarly, you don't get geofencing for automatically controlling illumination whenever you leave or enter a room or the home as a whole.
My biggest frustration, though, is the absence of ecosystem support, and it's there that alternatives like hue still have an edge. Elgato undoubtedly has plans for more from Avea, but right now it doesn't work with any of the smart home platforms like SmartThings, nor IFTTT, though Apple's HomeKit is apparently on the cards. Where Philips has the hue tap switch for an (admittedly pricey) physical way to control the lights, Elgato has no equivalent.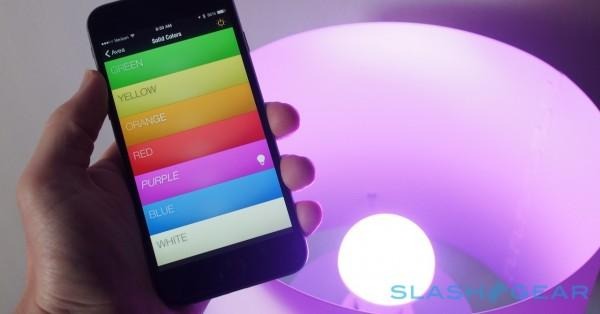 Avea is a solid first attempt, but there's still some ways to go before it's anything close to mature enough for full smart home deployment. Those with relatively humble expectations of perhaps filling a bedroom with color or adding a little extra mood to the lounge will get exactly that; anyone hoping to piece together a more comprehensive home automation system will bump into Avea's limitations.
It's true that the bulbs are cheaper than hue's $60 add-ons. That has to be balanced against the extra flexibility inherent to hue's platform, and the fact that the Philips bulbs are just plain brighter, of course.
The world is not short of wirelessly-enabled light bulbs. For those simply requiring the very basics, cheaper options like the $39.95 Avea can only be a good thing. Anyone looking to keep going into true automation, however, would do better to pick a more mature platform, rather than wait and see how committed Elgato is to the space.