Element Case Vapor Dock for iPhone Review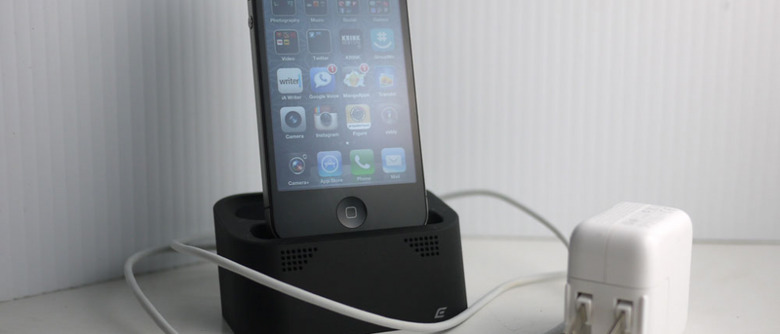 There's no lack of iPhone docks in the world, but not all of them are as fabulously high quality as the Element Case Vapor Dock. This dock is made of heavy metal – CNC Machined aluminum, in fact, with precision drilled holes and a weight that'll keep you grounded. The bulk of this device contains no technology at all, relying instead on a standard Apple iPhone/iPod cord to power your device up – that said, is it worth the cash?
This dock is, again, made primarily of a thick and heavy piece of aluminum, with enough space for a nude or case-covered iPhone, iPod touch, or iPod of essentially any kind. You've got non-skid rubber feet on the bottom, and a really basic amplification system if, in fact, you are working with an iPhone. The iPhone we're using here is an iPhone 4S, with its speakers at the bottom that are amplified by the architecture of the dock – the sound bounces out the holes, essentially.
Though the dock doesn't do a whole lot for sound quality, it does definitely keep your phone's sound quality in-tact as you're charging. You've got the option of a Silver or Black satin finish (the latter being the model we've got here.) The silver model has a color that essentially matches the Apple line of MacBook Pros so you can keep fashionable while you're powering up.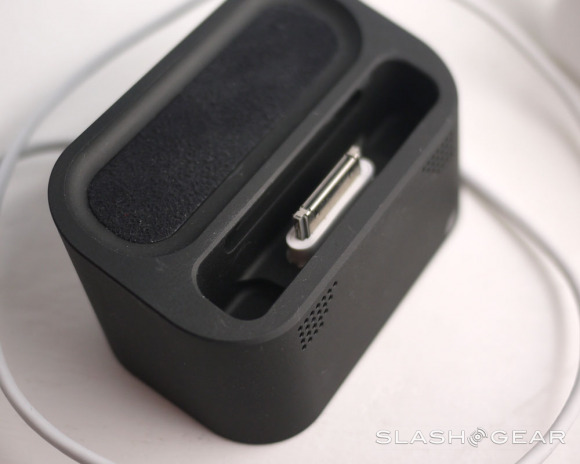 There is a confusing bit of information on the box and the early information released on the web for this dock – it says there's no USB cord in the box, but in fact there is. You wont need the USB cord you've already got with your iPhone or iPod device. You get the dock and the USB cord in the box, the whole package costing you a total of $119.99 from the Element Case store right this minute.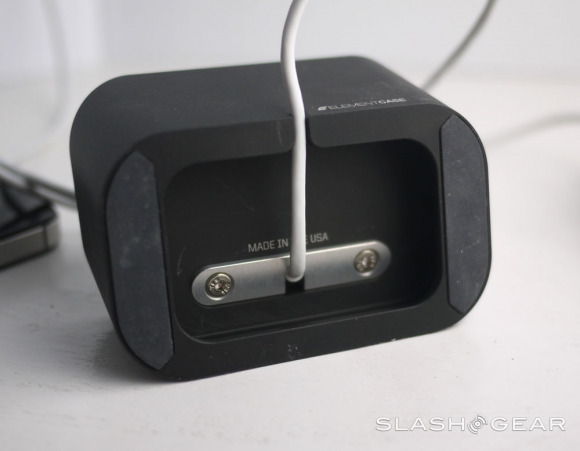 Element Case will recommend you pick up one of their fabulous cases, each of them certainly looking excellent and working with the dock, no sweat. The Element Case Vapor Dock, on the other hand, comes with a couple of rubberized bumpers that allow you to comfortably keep your iPhone sitting in the case with either a case or no case at all.
In the end, this dock will make you feel like you've got the most high-quality no-frills dock in the world, and you'll be right.