One of the big headaches in EV charging is about to get easier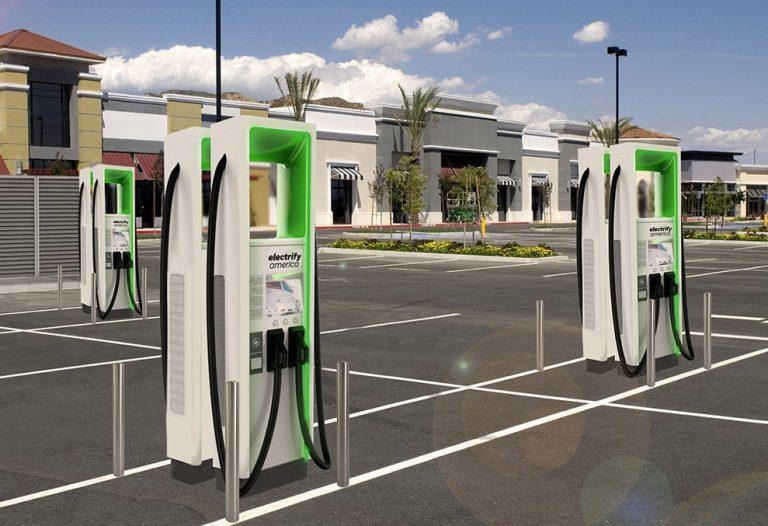 One of the potential game-changers for EV charging is coming to the US, with Electrify America confirming it'll be offering Plug&Charge support in its network. The Volkswagen-owned charger business plans to roll out more than 500 DC fast charging locations across the US by the end of the year.
What can be confusing to new electric vehicle drivers – and remain frustrating even for those familiar with EVs – is actually paying for electricity at public locations. With multiple charging networks in operation, each with their own payment systems, figuring out which account works with which charger can prove to be a headache.
Electrify America plans to cut through that confusion with Plug&Charge, turning to Hubject to facilitate it. It's taking advantage of the ISO 15118 global standard, which – among other things – allows EVs to automatically authenticate and authorize a charging session, directly with the charger itself. It's the first time the technology will be supported in the US.
Hubject has been running a pilot scheme of the technology in Germany, bypassing traditional charger membership – which typically involves a phone app, RFID card, or something else in order to log in – for the car doing that itself. Plugging in the charger would trigger an encrypted data connection between the vehicle and the Electrify America network.
While it may not be a familiar name, Hubject has some well-established backers. Among the company's shareholders are automakers like BMW Group, Mercedes-Benz and Smart parent Daimler, and Volkswagen Group, which includes VW, Audi, Porsche, and others. Bosch, the major tier 1 auto parts supplier, is also on that list, as is Siemens.
ISO 15118 doesn't just mean Plug&Charge, mind. The standard also includes advanced vehicle to grid (V2G) functionality, which could one day be instrumental in using cars as ad-hoc power sources for grid balancing. It also supports more advanced scheduling and smart charging.
Electrify America says that all of its chargers – from 50 kW through to 350 kW – will support Plug&Charge after a software update being released later this year. Of course, charger-side support is only one part of the equation. For all this to work, the cars themselves will have to support Plug&Charge too.
There, Electrify America says that it's working with Hubject to help automakers get up to speed with ISO 15118. Given the backers involved, it seems likely that Plug&Charge support will be added to a significant number of high-profile EVs.