Electric motorcycle beats gas-guzzling rivals at Pikes Peak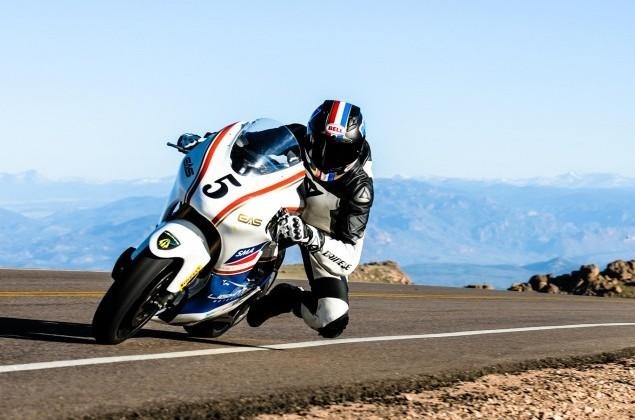 We're already aware of one record that was broken today, and that was the fastest overall time of the Pikes Peak Hill Climb done by Sebastien Loeb in his Peugeot Sport 208 T16, but as far as motorcycles were concerned, the fastest of the bunch ended up being an all-electric variant, beating out the next-fastest motorcycle by 21 seconds.
Carlin Dunne and the accompanying Lightning Motorcycle completed the 12.42 mile hill climb in just over 10 minutes flat. This beat the best gas-powered motorcycle time of the event by 21 seconds, which was set by Bruno Langlois on his 1205cc class Ducati Multistrada 1200 S. This marks the first time that an all-electric motorcycle has out-performed a gas-powered rival at Pikes Peak.
The Pikes Peak International Hill Climb consists of 156 turns, some of which are gentle eases, and others that are grueling hairpin turns that test the drivers' skills. It's one of the most challenging race events in the world for both the drivers and their cars, as the thin air at such high altitudes is taxing on gas-powered vehicles, not to mention the race course isn't exactly a walk in the park for even the most veteran of drivers.
Sebastien Loeb's record-breaking run:
All-electric cars have shown up at the event in the past, but we have yet to see them dominate the gas-powered competition. This weekend's win for the Lightning Motorcycle could just be a sign that electric cars and motorcycles are quickly moving up the ranks and will soon take over.
Earlier in the weekend, Loeb set a new course record of 8:13.878, which beat the previous record of 9:46.164 by over 90 seconds. Loeb averaged a 90mph speed throughout the race. We haven't found a video of Dunne's Pikes Peak run yet, but you can re-watch Leob's run above, which is certainly worth the second look.
VIA: Asphalt and Rubber