Ectaco Jetbook Mini eReader Available for Pre-Order Now for $99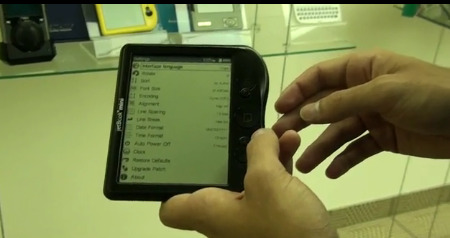 When the story of the Ectaco Jetbook Mini eReader broke cover, we were pleasantly surprised by the mini eReader that managed to hide under our radar for so long. While the initial story didn't give us much in the details department, we did manage to catch it on video, and since then we've been waiting to see whether or not this little eReader makes it to the market. Today is the day for those looking to get their hands on an eReader, but want to pay even less than $139.
Well, today's the day you can pre-order, anyway. The Ectaco Jetbook Mini eReader is available for your pre-purchase pleasure. It's still packing a 5-inch TFT display, and it weighs only 5.8 ounces. The little eReader also features "all-way reading," which means if you're a leftie, the reading angle will be fine for you, too. There are even multi-language interface options in there, too. There's a built-in clock, adjustable line spacing, and you can change the font size and line breaks, too.
As for other features, like the battery, the Ectaco Jetbook Mini will give you up to 90 hours of reading time. You can use a microSD card slot to expand the memory up to 2GB. And you get support for formats like ePub, HTML, PRC, PDF (courtesy of Calibre conversion to TXT and FB2), and MOBI — amongst others. And, if you do pre-order, you can expect your device to ship on October 1st. So, for $99, that's not a bad deal at all.
[via Best-eReaders; thanks Ben!]