E Ink's Color ePaper up close
Today we've gotten up close and personal with the newest innovation in E Ink display technology – Advanced Color ePaper. Also ACeP for short, this Advanced Color ePaper technology allows an electrophoretic display (EPD) to produce full color "at every pixel" without the use of a color filter array (CFA). That's big news for those of you that love to use your ereader without having to charge more than a couple times a year. Now you'll be able to do the same in full color.
This ACeP solution is able to produce all eight primary colors using colored pigments only. This creates a full color gamut which, in turn, is able to be controlled with voltages not unlike that of already-in-play commercial TFT backplanes.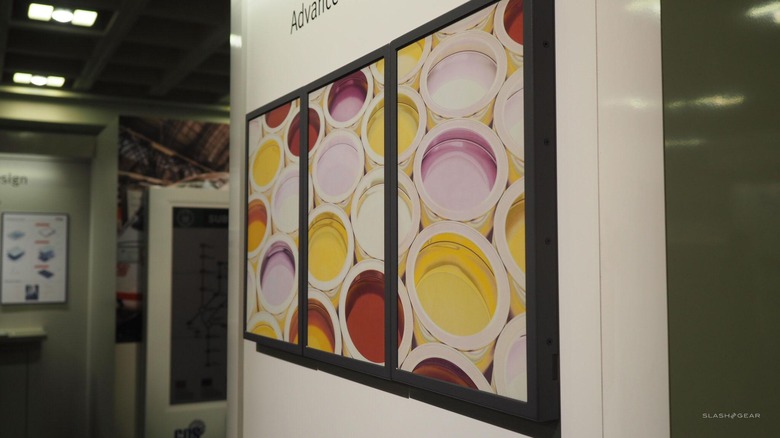 What you're seeing here is a set of 20-inch displays created to show off the new technology at SID's Display Week this week in San Francisco. We're at the Moscone Center to see the many oddities this show has to offer – and E Ink's display is certainly one of the more impressive (yet understated) in the house.
Colors are a little lacking in saturation – as one might have expected, and there's a refresh delay when each different set of colors kicks in. That's what appears to be flashing in the short video clips we've filmed here.
These 20-inch panels are 1600 pixels by 2500 pixels each – that's 150 PPI in all. They each utilize just one single backplane, making the entire execution as simple as possible. This solution creates reflective color in every single pixel in a form that is, as E Ink suggests, "commercially viable."
The first usage of this technology will likely be something like what you see here – panels used for public signage.
"We expect ACeP to become the basis upon which another generation of EPD display products can be developed," said Frank Ko, Chairman of E Ink Holdings.
We're crossing our fingers for ultra-low-power smartphones in the (distant) future. For now we sit back and marvel at what's already been delivered here in pre-release form and awe at the possibilities therein.
The folks at E Ink expect this technology to go into commercial production in the next two years.