E-Ink concept double-display smartphone hands-on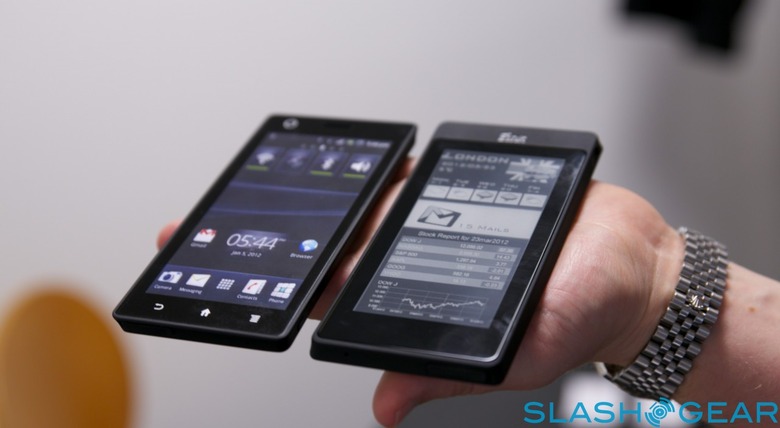 Big-screen smartphones may be the fashion, but how about two sizable screens on your next handset with negligible battery impact. SlashGear caught up with E Ink at IFA today to check out the company's latest prototypes, intended to spur some imagination among potential hardware partners. The mockups have a working e-paper screen filling the back, and a (non-functioning) LCD up front, offering two ways of displaying content simultaneously. And, while these might be concept devices right now, E Ink confirmed to us that there's at least one vendor looking at using the idea. Read on for a video demo.
As E Ink sees it, an LCD or AMOLED screen on a phone is great for multimedia and browsing, but is wasted on showing text or other persistent data like network status and battery level. Instead, the whole rear of the phone – also typically wasted space – is filled with an e-paper screen, that consumes minimal battery life (only requiring power when the content is changed).
The e-paper display itself is incredibly thin, and even with a protective plastic coating – making it just about shatterproof – is roughly as thick as a typical phone battery cover. E Ink's concepts used functional e-paper, and plugged into a driver unit as per in our video demo were able to change on the fly; the LCD was simply printed on.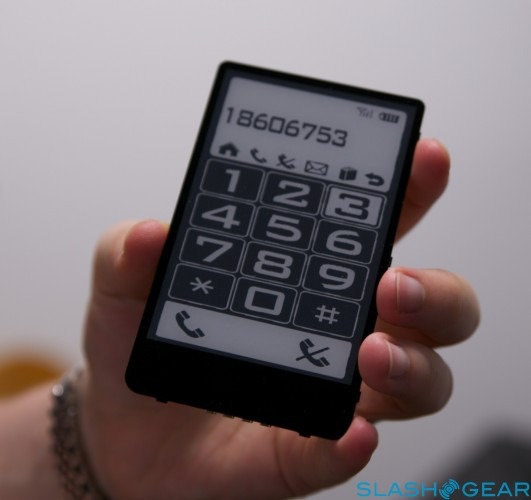 What could a twin-screen smartphone of this sort be used for? E Ink has a few ideas, though is leaving most of that to OEMs. An ereader app is the obvious choice, though you could also show a digital boarding pass for a plane (even if you had no battery life remaining on your phone to drive the regular screen), QR codes, or mapping directions. Alternatively, the panel could be used to show promotional information, such as vouchers for nearby stores, or even sponsored messages in return for free call, message and data credit.
E Ink couldn't tell us which companies it has shown the idea to, and which have said they'd be interested, but did say that at least one was working on something. The first such device could hit the market by 2013 at the earliest.