E-books vs paper books: Parent/toddler reading studies conclusions differ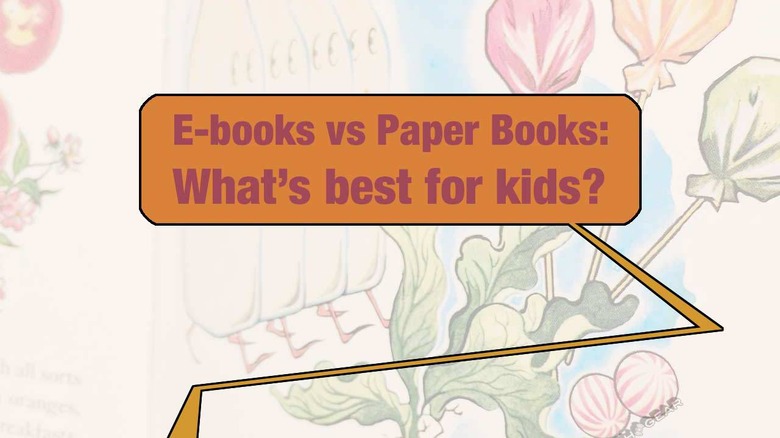 We're going to talk about two contrasting studies here today centered on e-books, print books, parents, and toddlers. One study was published this week by Tiffany G. Munzer and colleagues who found toddlers interacted with parents more with print book reading than they did with e-books. Their study was done with 3 formats of book in a videotaped, laboratory-based, counterbalanced study of 37 parent-toddler dyads.
In this recent study, parents "showed significantly more" dialogic, text-reading, off-task, and total verbalizations with print books. Toddlers in the study "showed more" book-related verbalizations, total verbalizations, and higher collaboration scores with print-book reading. Some of these scores are shown in a basic chart (from the study) shown below.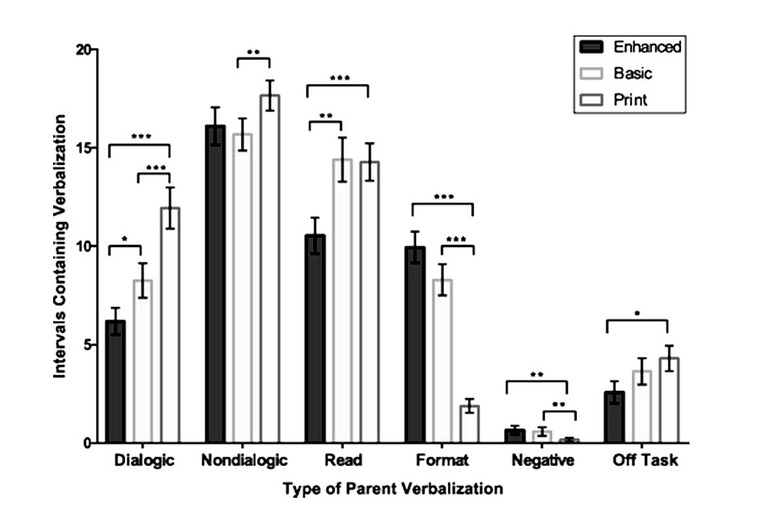 Parents also had fewer format-related verbalizations with print books than with e-books. This essentially meant they didn't have to tell their toddler to stop touching the screen or messing with the power buttons or volume buttons whilst reading. No such warnings are really needed with most print books.
This research concluded that "Parents and toddlers verbalized less with electronic books, and collaboration was lower." They suggested that future studies should specifically look at e-book design features that encourage parent-child interaction. They also made mention to pediatricians that it might be an OK idea to suggest to parents that they read paper books instead of e-books, but were careful not to say they were demanding such a thing.
This first of two bits of research we're looking at today was conducted by Tiffany G. Munzer, Alison L. Miller, Heidi M. Weeks, Niko Kaciroti, and Jenny Radesky, all of whom hail from the University of Michigan, Ann Arbor, Michigan. They belong to a variety of departments, including Pediatrics, Medical School, Health Behavior and Health Education, Nutritional Sciences, Biostatistics, School of Public Health, and the Center for Human Growth and Development.
To learn more about this research, see the paper "Differences in Parent-Toddler Interactions With Electronic Versus Print Books" as published on March 25th, 2019 by the American Academy of Pediatrics with DOI:10.1542/peds.2018-2012 and Online ISSN 1098-4275.
BELOW you'll find a video abstract of the study cited above, courtesy of the researchers involved in said project.
In another study published in May of 2017, parent/toddler interactions at reading time were similarly tracked. They studied parents of 102 toddlers reading 2 e-books or 2 print format books "with identical content" (to said toddler). They found that toddlers reading e-books did the following:
"Paid more attention, made themselves more available for reading, displayed more positive affect, participated in more page turns, and produced more content-related comments during reading" than those toddlers read printed versions of the same books.
This same study concluded the following: "In contrast to prior studies conducted with older children, there was no difference between conditions in behavioral or off-topic talk for either parents or children." This leads us to believe that the older the child gets, the more distracted they get by the idea that the tablet has... activities other than book reading to offer. (It's important to note here that they're using tablets here rather than e-ink e-readers.)
This second study (conducted in 2017) was conducted by Gabrielle Strouse and Patricia Ganea. Strouse is from the School of Education, Division of Counseling and Psychology in Education, University of South Dakota, Vermillion, SD, USA. Ganea hails from the Language and Learning Lab, Department of Applied Psychology and Human Development, Ontario Institute for Studies in Education, University of Toronto, Toronto, ON, Canada.
You can learn more about additional research cited in this article by heading to "Parent–Toddler Behavior and Language Differ When Reading Electronic and Print Picture Books" as hosted by the US National Library of Medicine, National Institutes of Health (NCBI) and published by Frontiers in Psychology. This paper can be found with code DOI:10.3389/fpsyg.2017.00677 and PMCID: PMC5432581.