Dyson V8 Absolute Review: A cordless masterclass in suction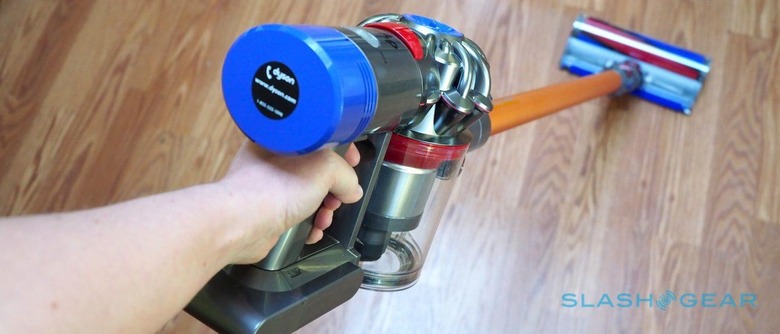 No home appliance manufacturer inspires outspoken brand loyalty quite like
, but it's taken the British company several tries to get cordless vacuum cleaners right. Latest to the showroom is the Dyson V8 Absolute, a decidedly premium way to cut the cord as you vanquish dust, dirt, and animal hair, with the promise of the sort of efficacy you'd hitherto require a traditional upright vacuum to achieve. Question is, has Dyson delivered enough to warrant its $600 sticker?
In the box you get not only the V8 Absolute vacuum itself, but the extension tube, a selection of different heads and attachments, and the charger plus an optional wall-cradle from which the Dyson can dangle.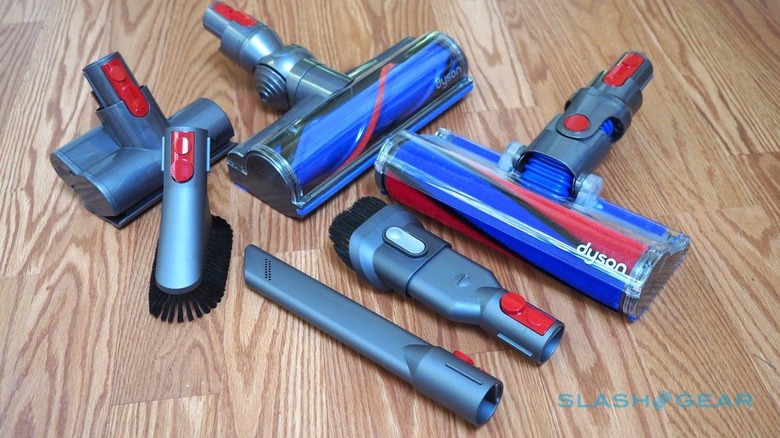 Three of the heads are powered. There's a direct-drive cleaner head, with stiff nylon bristles intended for carpet and anti-static carbon fiber filaments for hard floors, but also a soft-roller cleaner head, with a woven nylon bar that looks like something you'd find in a classic carwash, and which is designed to both sweep and polish hard floors. Finally, a compact version of the direct-drive cleaner head is less than half the width for fitting into smaller gaps.
On the unpowered side, there's a narrow-edge tube and two types of brush, which are delicate enough that you could vacuum your keyboard if you wanted. Each part clicks securely into place, are made predominantly of tough plastic, and have easy to press clasps that are bright red so you always know where to push.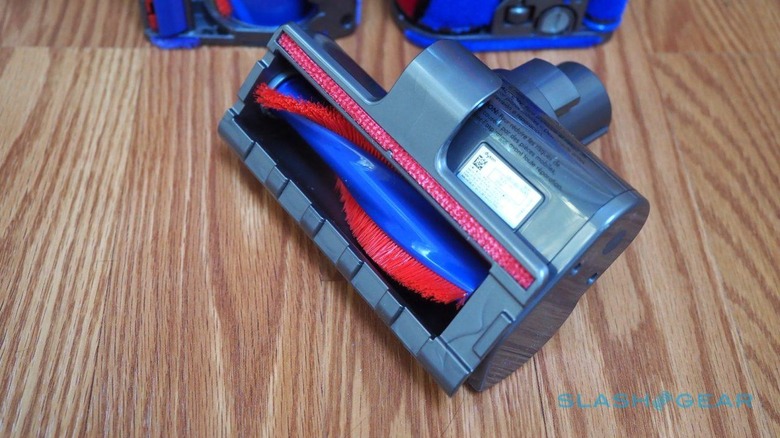 Like many pet owners, I've been astonished by quite how much fur can be shed by one, relatively small animal, not to mention how rapidly and broadly it can be spread around the house. The hairs spread quickly across wooden floors, or get embedded into carpet; sofas and chairs gain a thin but tenacious layer.
It's been sobering seeing what the V8 Absolute can pick up in short order. A few passes across the kitchen collected more than I'd want to subject you to with images; suffice to say, I resolved to vacuum more frequently as a result. Being able to snap a powered head directly to the V8 itself – rather than on the end of the tube, or on an upright vacuum's hose – makes dealing with stairs or sofa cushions far easier.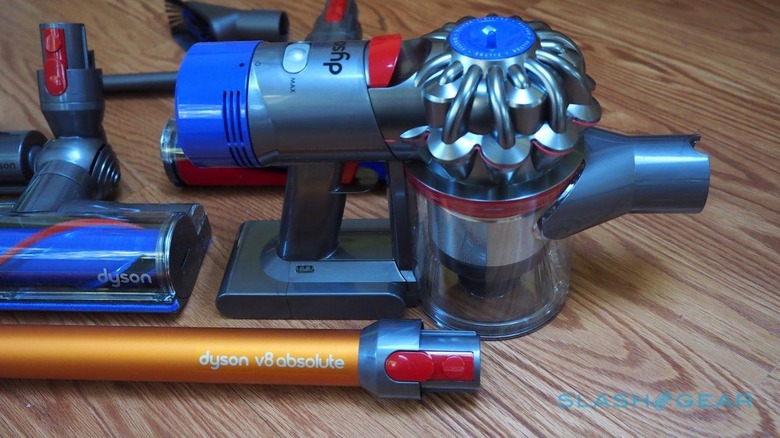 In prolonged use the V8 gets a little heavy in the hand – the grip is basic, hardly ergonomic, and the weight eventually pushes the top section down into your fist – but it's easier if you let some of it rest on the brush head rather than trying to "carry" the vacuum all the time. You can't beat it for maneuverability, either: it's far easier to scoot around table legs than trying to manhandle an upright or a canister vacuum. Still, with no way to store the attachments on the V8 itself, I found myself doing a little extra walking to and from the pile of heads and nozzles as I changed tool to suit the job.
Dyson claims 40 minutes of use from a charge, though that's a best-case scenario and depends which mode you've got the V8 in and what tool you're using. Maximum runtime comes in standard mode and with unpowered tools; click a powered brush on, however, and flip over to maximum power mode, and runtime plummets to a mere seven minutes.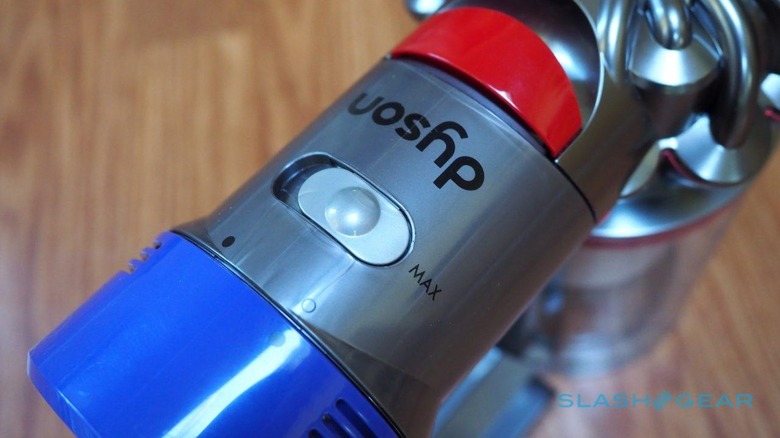 Before you get too worried, though, there are a few factors in Dyson's favor here. For a start, you may not need maximum power mode all that often: I've had no issues getting up stubborn pet hair that a brand new lint roller couldn't grab, with the V8 in standard power mode.
The design of the V8 has a big impact on power consumption, too. Rather than a toggle switch, the vacuum only operates when you squeeze the trigger, and it can be surprising how much of the time you realize you don't actually have it turned on. The actual amount of active vacuuming is a fairly small percentage of the total time dealing with each room.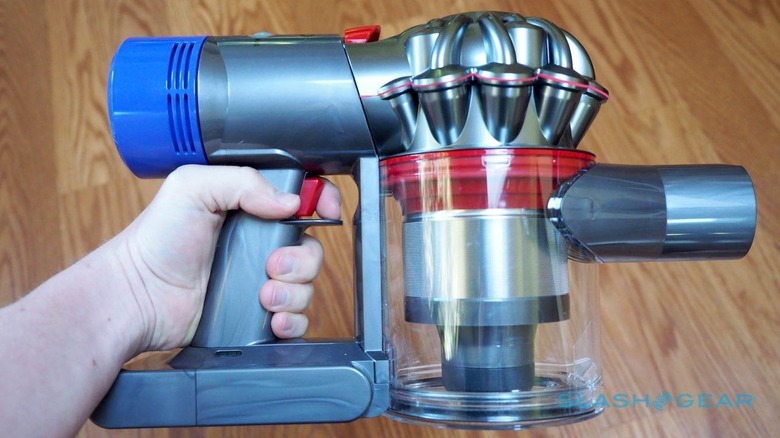 I know that from prior experience: this isn't my first rodeo with a cordless Dyson. I've actually got an old DC35, a model which dates back to 2011; it has up to 65AW suction compared to the V8's 115AW, and is rated for a mere 15 minutes runtime versus the V8's up to 40 minutes. Even with that battery limitation, and a powered head lowering it even further, I could still get around a two bedroom apartment on a single charge with the DC35.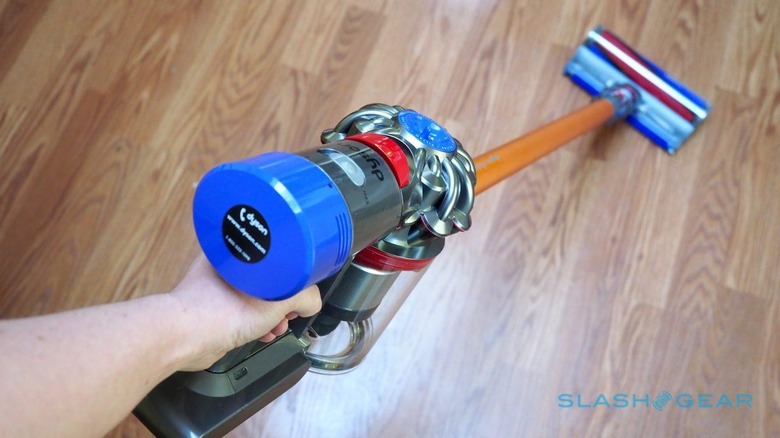 At first, I thought the dust bin on the V8 would be a significant step backward compared to the system on my old Dyson. Previous cordless vacuums from the company have had a simple bin with a flap-down base: push a latch and the bottom hinges open to dump the dust in your trash can.
The V8 is a little more complex, involving both pulling up the cyclone assembly and simultaneously releasing the base. In practice, however, it's a big improvement, since lifting the top section also dislodges any tenuous dust or hairballs that might otherwise demand a few sharp raps. Banging your expensive vacuum on the edge of the trash can is a shortcut to cracking it, so anything which prevents that is probably a good idea.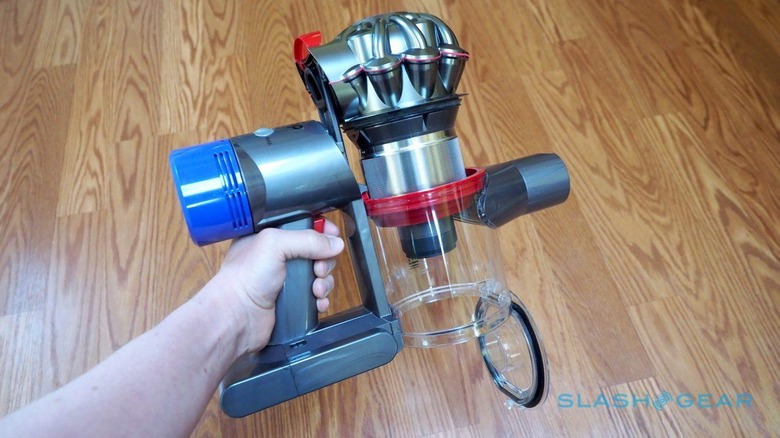 Periodically, Dyson recommends removing the air filter, washing it under the tap, and allowing it to dry before reinstalling. It's a little fiddly as a process, but you don't have to do it often.
I can't fault the V8's performance, therefore, but I struggle with its price. Dyson charges a heady $599.99 for the V8 Absolute bundle; the previous-generation Dyson V8 can still be had, from $299.99, but you sacrifice power and battery life.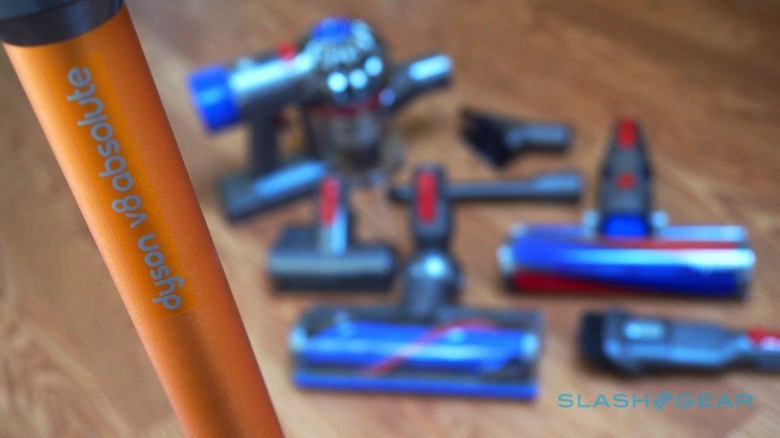 That's a fairly astonishing amount to spend on a vacuum cleaner, though if there's a saving grace it's that you're not sacrificing on suction by going cordless. The DC35 has always really been a touch-up tool, and I had a regular upright, too, but the V8 Absolute is clearly capable of replacing both in one fell swoop. You'll pay handsomely for that convenience, but if your current upright vacuum is too heavy, too cumbersome, or simply too ineffective, the freedom of going cordless is no longer a compromise.