DXG-018 3D camera is cheap and comes in a rainbow of colors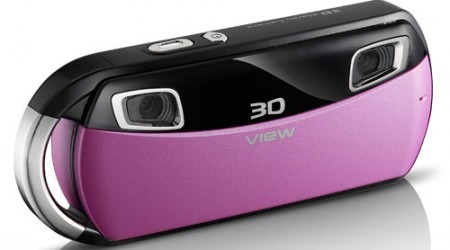 We have talked on more than one occasion about the cheap cameras and camcorders that DXG offers. The last product we saw from the company was a 3D camcorder called the DXG-321 that isn't cheap at right under $600. DXG is back with a new point and shoot 3D camera that is much cheaper than that camcorder at only $69.99. The camera is called the DXG-018 and it comes in five different colors. The camera has two lenses for the 3D effects.
The image sensor is a 0.3M CMOS sensor and it has auto/ISO 100 sensitivity. The camera can focus on things as close as 6-inches and saves photos to SD cards up to 16GB the image resolution is 1.3MP and the shutter can activate in 1/20 to 1/4000 of a second. Power comes from a pair of AAA batteries and it measures 4.8" x 0.83" x 1.93" and weighs 2.29 ounces with no batteries inside.
The camera comes with a cheap 3D viewer that appears to be a paper tube with two lenses. When you print out the photos from the camera on your normal printer, you place them in the viewer to see the 3D effects. You can't expect too much for under $70. You can get the camera in pink, lavender, yellow, orange, and green colors.
[via DXG]