Dumbledore is outed, now buy the t-shirt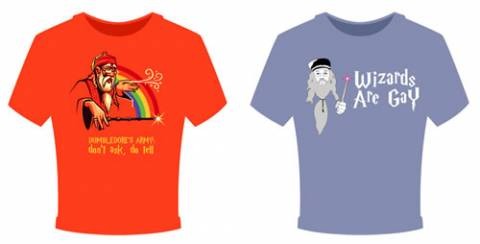 Everyone has been talking about J.K. Rowling's decision to out Dumbledore. Most of us find it especially odd that she chose now to do so. Well now you can make light of the whole thing with these two t-shirts.
I think like a lot of people, I don't mind that Dumbledore is gay, I am just really curious why she didn't say so before. Perhaps an afterthought that she regretted not adding in her books. That or now that she is all done writing the series she is having a hard time letting go of her beloved characters. Personally, I'd probably go nuts, to be finished with something after you spend so much time submerged in it.
The red tee says "Dumbledore's Army: Don't Ask, Do Tell" and the gray reads "Wizards are Gay". Both shirts are being sold for $18.
Dumbledore Pride T-Shirt [via neatorama]