Ducati gets smart systems and an inflatable jacket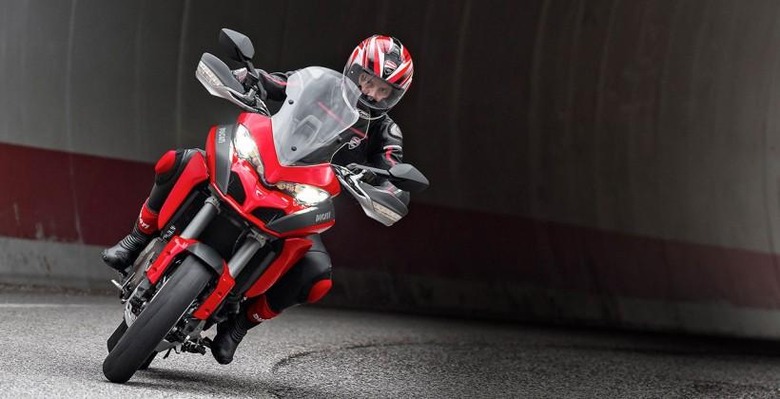 Three new innovations have been revealed by Ducati this week. Two of them are new motorcycles, the third is a jacket. The most powerful of these is the Ducati 1299 Panigale, the slightly more "pedestrian" model is the Multistrada 1200, and the Ducati D|air Street Jacket/Vest. While you might be all about speed and power, Ducati is making a big-time push for safety, starting with the Panigale – dynamic suspension that adjusts based on your position – no more flips for you. Just so long as you know what you're doing, of course.
Ducati 1299 Panigale
The Ducati 1299 Panigale works with three major safety systems. These are Cornering ABS, Ducati Traction Control, and Ducati Wheelie Control.
The Panigale monitors which way you're leaning and to what degree, compensating with damping, traction, and ABS control adjustments. Suspension changes in real-time according to your position.
Exiting a turn stiffens your rear suspension, allowing you to hang on to the road much more effectively with Traction Control.
Wheelie Control keeps your front end down when you punch the throttle. You stay on the ground and you make the most use of the power under your body.
And the bike is very, very powerful, needless to say. This machine brings on 205 horse power for good measure.
Multistrada 1200
The Ducati Multistrada 1200 works with Cornering Lights – aimed in the direction you're turning. Those are dedicated LED lights that activate when you're making a corner.
Electronic Speed Control rolls in with the Multistrada 1200 – cruise control integrated into the control panel of the handlebar, that is. Ducati Skyhook Suspension (DSS) Evo is also active, bringing on a set-up that's "constantly independent from the road surface." That means minimal oscillations and no compromise between comfort and performance.
The Multistrada 1200 also works with hands-free key entry. With your electronic key in your pocket, you approach, and the bike turns on automatically.
Like the Ducati 1299 Panigale you also have Cornering ABS, Ducati Traction Control, and Ducati Wheelie Control, as well.
Ducati D|air Street Jacket/Vest
The Multistrada 1200 D|Air system recognizes "typical signs of a crash on the road," releasing airbags in D|Air clothing when the time is right. Or wrong, however you want to think of it.
When there's going to be a crash, your D|Air jacket will inflate very, very quickly. The jacket itself is available separate from the bike, but you'll need one to work with the other.