Dubuc Tomahawk all-electric supercar promised for 2017 debut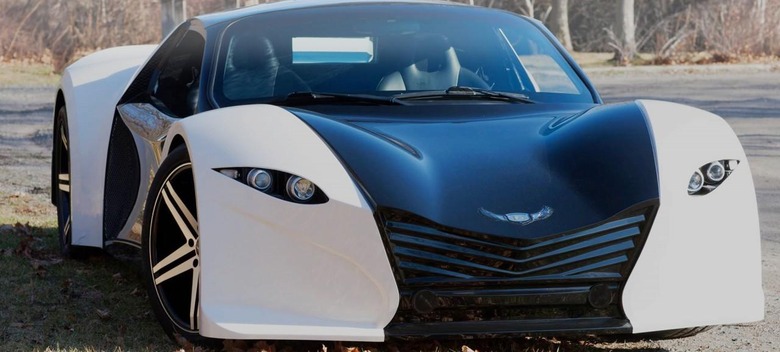 When we last heard from Quebec, Canada-based automotive start-up Dubuc Motors, it was late 2013 and their sharp-looking Tomahawk was a kit car that made use of a Corvette engine. Fast-forward to the present, and the Tomahawk is an all-electric supercar to be built in North America and see its first release in 2017. Dubuc is ambitious, aiming for the Tomahawk to take the place of the discontinued Tesla Roadster, but with other EV start-ups promising their own supercar contenders, they may soon be facing a crowded market.
As for the new Tomahawk, the car has grown from a two-seat, mid-engine layout in its kit form to a four-seater with both front and rear electric motors offering all-wheel drive. It's also kept most of its aggressive, sporty design, including those scissor-style doors.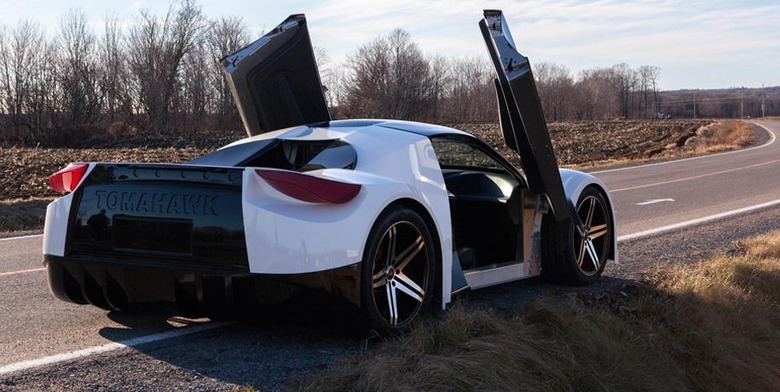 On their website, Dubuc's engineers say they're planning for the Tomahawk's top speed to be around 160mph, with 0-60mph capable in 3 seconds. There are very few details about the powertrain at this point, but the EV is designed with a flat undercarriage, hinting at a battery layout distributed along the floor. Speaking of batteries, Dubuc also has a goal of a 300-mile range.
The manufacturer says it's already showing off the Tomahawk at auto shows. With a $110,000 price tag, early buyers can make a $5,000 deposit to reserve one of the first models when they roll out in 2017.
The specs at this point certainly give reason to hope the Tomahawk meets its promise of an all-electric supercar, but like other startups promising high-speed, long-range vehicles, including Faraday Future and the reborn Fisker Karma, we'll have to wait and see what comes of it.
SOURCE Dubuc Motors