Dual-Booting Ubuntu Nexus One Tutorial Released [Video]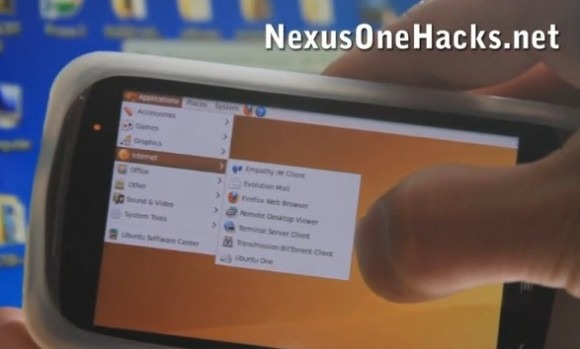 Servers are getting smaller, but they're still not quite as compact as your cellphone; now, thanks to a new tutorial, your Google Nexus One can double up as your test web server.  NexusOneHacks has persuaded Ubuntu to live in harmony with Android 2.2 on the Google smartphone, producing a dual-boot device that allows you to run regular Ubuntu/Linux code.
Video demo after the cut
Rather than wiping out the basic Android OS – which would rather limit your phone's abilities to be, well, a phone – the Ubuntu install runs alongside the original platform.  The terminal runs in the background, while the Ubuntu X11 UI shows up in the Android VNC app.
Basically, once you've installed you can then run just about any Ubuntu code you like, as long as it can deal with the Nexus One's 1GHz processor.  Your handset will need to be rooted beforehand, and NexusOneHacks says they also have it running on an HTV EVO 4G so even if you don't have the official Google phone you may still be in luck.
[via Android Community]