SmartThings adds Dropcam WiFi camera to smart home
Wireless security camera Dropcam has scored SmartThings integration, feeding live photos to the smart home app, as well as triggering home automation devices when movement is detected. Part of SmartThings' Labs open beta, Dropcam cameras can be used both as triggers or outputs in a DIY smart home setup, including automatically capturing a cluster of photos when someone opens the front door.
On the trigger side, Dropcam can be used to activate appliances like SmartThings-connected lights, automatically turning them on when the motion-sensing camera is tripped.
Alternatively, the camera can be instructed to take one or more photos by other SmartThings actions. So, if a magnetic door or window sensor is opened, you could automatically grab an image – or a burst of images – which can then be reviewed in the SmartThings apps for iOS and Android.
A simple schedule of taking a photo regularly at set intervals is also supported.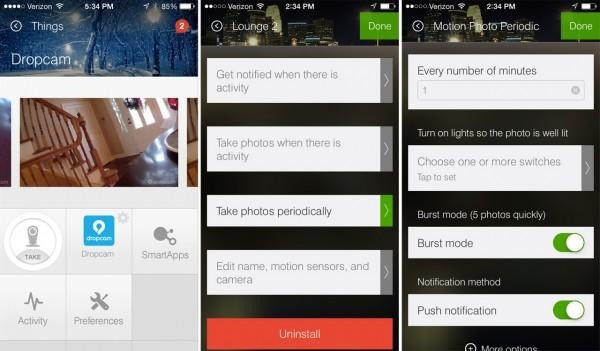 The new integration follows SmartThings adding extended support for Sonos and Philips' hue earlier this month, which allowed the automation system to trigger mood music or lighting notifications depending on external triggers like weather and movement sensors.
SmartThings takes a piecemeal approach to home automation, relying on a central hub that plugs into a regular WiFi router, and then various wirelessly-connected remote plug sockets, movement sensors, door/window sensors, and other components. There's also support for third-party platforms, like Sonos, hue, and smart-locks from Yale and others, as well as web-based services like IFTTT.
Although each can be used individually, they can also be woven together into macros that can trigger a number of different actions, even if the platforms themselves weren't originally intended to work together.
Update: Dropcam has highlighted the fact that this integration is not officially sanctioned, and that in general it recommends against users putting their username and password into third-party apps. As ever with cross-platform services, you do so at your own risk.
SOURCE SmartThings