Dropcam HD hands-on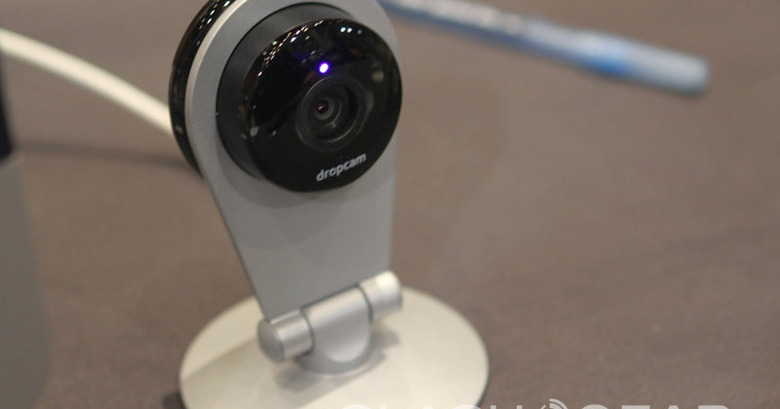 There's a camera out there today, folks, a camera by the name of Dropcam HD – one that when we got a hands-on look at, we were flabbergasted at the awesomeness and simplicity of as not only is it able to monitor your home environment in a completely non-intrusive way, it's all quite inexpensive. This device is the "easiest way to check in on what you care about" as they say, and is able to work with you to bring the video and images it captures to you need in a rather sleek form factor as well. The whole thing also works in pitch dark and is able to pick up 720p HD video for superior quality viewing.
This camera is able to be set up in 60 seconds, it connecting to your wi-fi network to stream video anywhere you want it – through mobile or your browser window from any internet connected device. You can watch all night long with night vision, this feature turning on automatically, and you can zoom at any time on whatever you like inside the devices field of vision. There's a mic inside as well as a speaker which then allows you to have two-way conversations with whoever's in the room.
Have a peek at the video here of our hands-on look and check the images above and below to get your own closer look. Note that this device is available today for a mere $149 and can be found at Dropcam.com – this is in addition to whatever plan you choose for connectivity. You can do the Basic plan for free – this will give you real-time viewing at any time with motion alerts via email or text. That's a pretty good deal, but if you'd like more features you certainly can pay for them. Plus and Pro cost $9.99 and $29.99 a month respectively. Plus will being you all the basic features and will give you cloud storage amounting to seven days of DVR recording – Pro has all of that but with 30 days of full-motion HD video as well.
Also note that the group is no longer affiliated with its partners of old, now working more independently than ever on this newest bit of hardware. Exciting times are ahead! This isn't the last we'll hear about this device, you can bet.