Dropcam Echo adds audio to easy wireless security webcam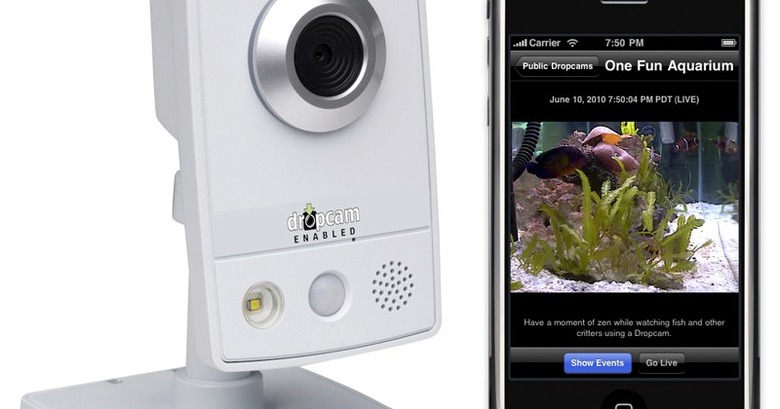 Dropcam has introduced its latest internet-connected security camera, the Dropcam Echo, which takes their first model and throws in streaming audio support.  The Dropcam Echo hooks up via WiFi to your home or business router and automatically starts streaming video to the company's site; you can log in via a regular desktop browser or via the iPhone or iPad apps.  Meanwhile there's basic DVR functionality for reviewing older recordings.
Dropcom DVR – which is a subscription-based feature – allows users to look back through the past thirty days of footage, complete with a timeline navigation system.  Meanwhile you can also share footage and still frames via the web interface.
If the camera spots any movement then it will automatically send out an email or iPhone push-notification, together with a still image attached and a link to the stream.  The Dropcam Echo will go on sale alongside the existing Dropcam ($199), priced at $279.
Press Release:
Dropcam is launching the all new Dropcam Echo

Keep an Eye, and now an Ear, on What's Most Important from Anywhere on the Web, Even from Your iPhone!

Today, we're announcing the launch of the all-new Dropcam Echo, the Dropcam home security camera that adds audio to the mix. If you're new to us, Dropcams are easy to set up, small and affordable wireless home monitoring systems. The Dropcam.com service allows you to watch your homes, businesses, valuables, children, and even pets from wherever you are, whenever you want, all from the Dropcam website or with our Dropcam iPhone app. Users can also easily share a secure live video stream with friends and family.

Home and business monitoring has never been easier:

- Dropcam connects with your home wireless network in a few easy steps. Just connect to power, connect to your home router, and Dropcam does all the work. Within minutes, your Dropcam will be streaming live – it's like a webcam, but with no computer or special software needed!

Dropcam is the first camera that reaches out to you with activity alerts:

- Dropcam users never have to worry about missing an event. You automatically receive immediate alerts via email (or push notification on your iPhone) when motion is detected by your Dropcam. Each alert includes a still image of the event along with an instantly playable clip of the recorded activity.

Home security & social video with easy feed sharing for friends and family

- Dropcam is an amazingly easy way to share your precious moments of the children (or pets) with family and loved ones, through secure sharing and simple one-click Web-based access (no downloads necessary). It also makes a great home security camera you can watch while traveling – or have your friends help watch it for you!

Built-in DVR with 24/7 digital recordings:

- The Dropcam.com service includes a DVR feature – it automatically records up to one month of activity from each camera, backed up online ("in the cloud"), fully accessible through the Dropcam website or on your iPhone for later viewing. (Note – some of our features like the Dropcam DVR require a paid subscription – Worth every penny.)

Monitor one or multiple cameras from anywhere, even on your iPhone. (Or your iPad!):

- The Dropcam.com web interface lets users watch a live stream of as many cameras as they want via the web or on the Dropcam iPhone app, and even provides an easy to use timeline of recent activity to let them go back and watch what they may have missed while away.

All of this is just the beginning. In the coming months, we'll be rolling out new features and apps to make the Dropcam even better. We'll announce our first set of upgraded features within the month, and really want to get the Dropcam community involved in helping with the future! We'd love to hear your feedback. If you have a great idea for Dropcam leave a comment below.