Dropbox app finally drops on Windows phones and tablets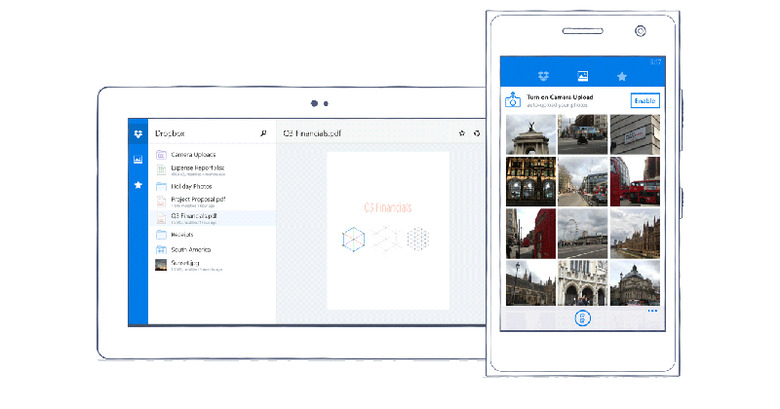 One of the most cited flaws of Windows' mobile platforms is the distinct lack of top and topnotch apps in the Windows Store. That apparently hasn't daunted Dropbox from catching up now. Better late than never, right? In the spirit of Microsoft announcing good things with Windows 10, including the availability, or at least the promise, of the same apps on both desktop and mobile, Dropbox is announcing that its app is now available for both Windows "modern" tablets and smartphones.
Although Dropbox and Microsoft are rivals in the same cloud storage market, they cannot really ignore each other. Microsoft cannot ignore the clout that Dropbox has in that space, while Dropbox cannot deny that Microsoft's Office file formats still have sway. Last year the two forged an unlikely partnership that saw the arrival of Microsoft Office integration into the cloud service. Now the two are taking another step forward together.
Whether you're on a Windows Phone 8, Windows 8, or Windows RT, you can now enjoy the benefits of having a native app for Dropbox. These include features like automatically backing up photos to the cloud, Dropbox's of course, accessing multiple accounts in a single app, and marking files as favorites so you can access them even when offline. One particular feature you will with this new app that you couldn't previously do is being able to pin any Dropbox folder to the start screen for quick access.
Will the addition of Dropbox to the Windows Store suddenly bring in hoards of new and returning Windows users? Hardly, but it's a good step forward, hopefully just one of many more to come. At least, that's part of the promise of Windows 10, among other things. Head on over to our Windows 10 coverage to see the rest of the promises, including Cortana on the desktop, tighter integration with the Xbox system, and even holograms.
SOURCE: Dropbox