DROID Turbo GFXBench Sheet Hint At Even Beefier Specs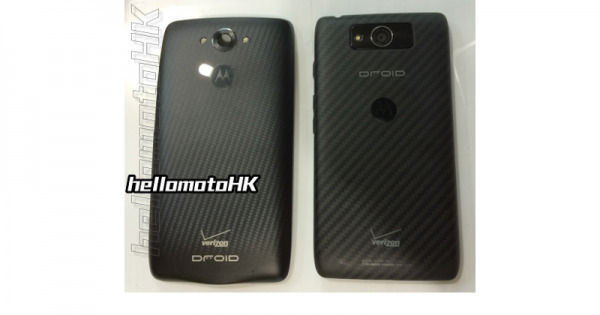 We've already gotten a few glimpses of the supposed Verizon DROID Turbo, but now it seems that Big Red might have an even more formidable gun in its arsenal. The GFXBench benchmarking site has an entry for the said Motorola smartphone and it reveals hardware that curiously outperforms the flagship.
Verizon has had a blossoming relationship with Motorola, so word that a new DROID is on its way isn't exactly surprising. That it will be quite close to the new Moto X flagship, such as a 5.2-inch 1080p screen, 13 megapixel rear camera and a Qualcomm Snapdragon 800 processor, is, again, nothing extraordinary. These specs from GFXBench, however, are anything but.
The DROID Turbo painted by this sheet shows a beefed up smartphone, where the 5.2-inch screen sports a QHD 2560x1440 resolution and the processor is, instead, a much faster 2.7 GHz quad-core Qualcomm Snapdragon 805. The RAM is also at the so far highest 3 GB configuration while storage is capped at 32 GB.
It is quite interesting that the Turbo is also noted to have a 20 megapixel rear camera, one that is capable of shooting UHD video in resolutions of 3840x2160. This definitely goes hand in hand with the more multimedia friendly and 4K ready Snapdragon 805. Depending on the sensor used, it could pretty much go head to head with the Sony Xperia Z3, which sits at the top of the camera pile, at least in the Android world. DxOMark gives the overall smartphone camera crown to the iPhone 6 and iPhone 6 Plus.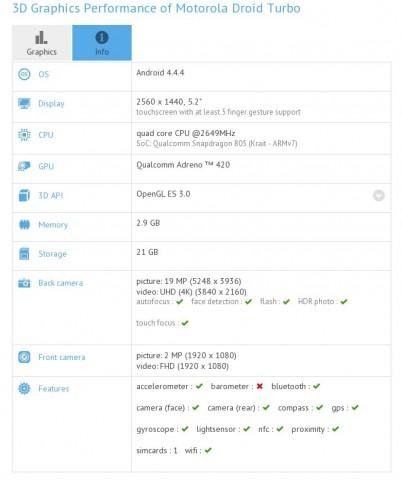 Now these details definitely sound too good to be true and is slightly out of character for a DROID smartphone vis-a-vis the Motorola flagship. It will definitely eclipse the Moto X, at least for those who are part of Verizon's family, who may be a bit disappointed at seeing an even better Motorola device after having just invested on a Moto X. That said, the Moto X could very well win in terms of price and definitely in terms of an almost pure Android experience. We will only be able to really tell once the DROID Turbo cat is truly out of the bag, but so far, this is turning to be a delectable yet strange device.
SOURCE: GFXBench