DROID RAZR in white comes tomorrow - can you guess why?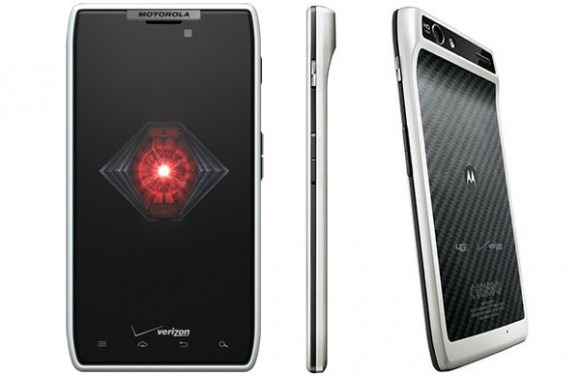 Though it may seem like an exercise in foolish re-reporting to speak on this white version of the DROID RAZR again when we announced it earlier this month, it's availability for tomorrow (the 15th of December) should strike you hard enough to bring about a bit more buzz than this device otherwise would. Since the DROID RAZR was released in its original black/gray form last month (our full review able to be found here), another color for the casing of this device is essentially just a paint job on the same cool sharpness: but besides the OTHER device you're more than likely aware is almost certainly coming to Verizon tomorrow, recognize this: the DROID XYBOARDs are being cross-promoted with this handset as a "one-two punch of media mastery and multitasking might."
Isn't that just the most exciting thing you've ever heard in your life? What it means is that Verizon and Motorola remain strong, this newest deal having a tie in with cash as well: $100 off a DROID XYBOARD if you buy a DROID RAZR. Pick up both for a great deal, right? If you listen to Vince's view of the DROID RAZR, you might think twice about such a situation. If you listen to my view of the same device, you might find yourself totally unable to resist. That said, we've got reviews of both versions of the XYBOARD coming up imminently here on SlashGear, so see if you're in for the full haul.
You'll be able to pick the white version of the DROID RAZR up at your local Verizon store tomorrow morning, and if you've been waiting to see the differences between this and the original black, now's the time to do it. All the innards are the same, the case color is different, and the price does not change. I'd suggest holding this and the other big-name device that's almost certainly going to be popping up tomorrow at Verizon in your hands to compare: and note the size difference for you petites out there.