DROID Incredible 2 Review
Last April we described the original DROID Incredible as an "excellent" device, buoyed above the then-competition by virtue of its 8-megapixel camera and user-friendly HTC Sense interface. Since then, Android phones have grown second processor cores and even bigger displays, and the smartphone market in general has become a far more competitive place. Can the Verizon DROID Incredible 2 pick up where its predecessor left off? Check out the full SlashGear review after the cut.
Hardware
In many ways the Incredible 2 is doubly familiar. Not only does it maintain the unusually molded chassis of the first Incredible, it's also very similar to the HTC Incredible S currently on sale Europe, and which we reviewed last month.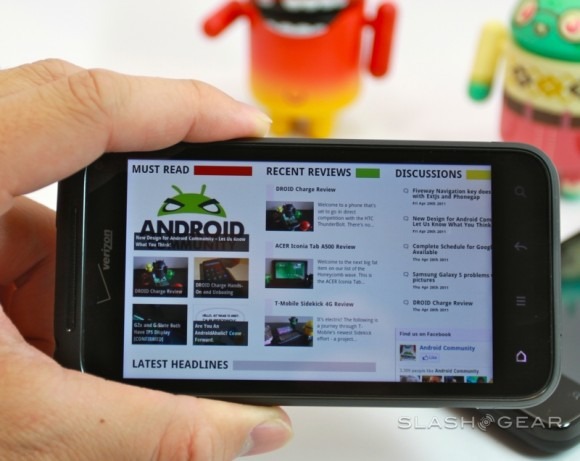 The similarities don't end there. The processor is still a 1GHz single-core Qualcomm chip – though the newer MSM8255, rather than the original's QSD8650 – and 1GB of ROM space, though RAM has increased by 50-percent to 768MB and the GPU is now the Adreno 205. There's still a WVGA, S-LCD touchscreen, though that's grown to 4-inches, while on the back there's still an 8-megapixel camera with dual-LED flash, autofocus and 720p HD video recording.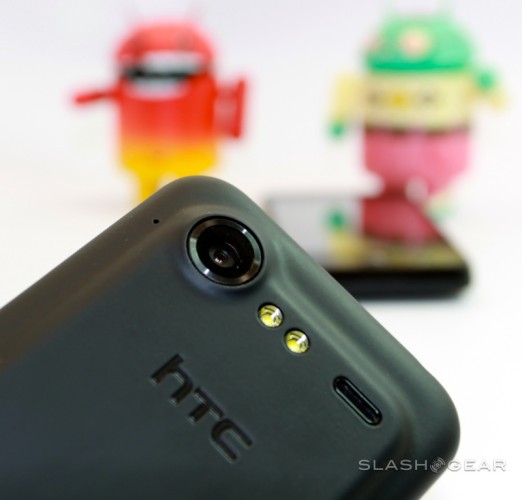 Now it's accompanied by a front-facing camera, though only 1.3-megapixels and fixed-focus.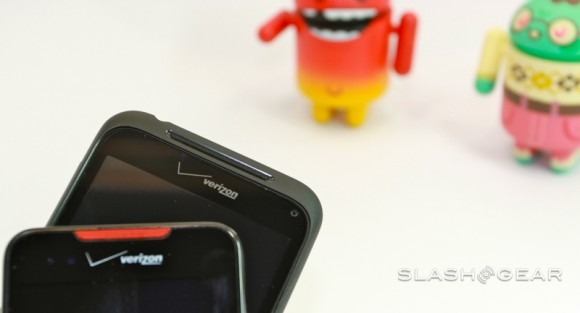 Happily one of our biggest complaints about the original Incredible, its CDMA-only radio, has been addressed with the Incredible 2. A so-called World Phone, it has both CDMA/EVDO Rev.A connectivity for use in North America, and HSPA connectivity for use when roaming abroad.
Gone is the Incredible's optical joystick, replaced on the Incredible 2 with on-screen cursor control in Android 2.2 Froyo, and leaving space for HTC to implement its trick rotating buttons. These automatically change orientation, flicking 90-degrees when the phone is tilted onto its side. Build quality in general is good, the narrow edges making the Incredible 2 feel thinner than it actually is, though the aesthetics are still likely to divide users.
Software and Performance
Despite the twelve months in-between, Android on the Incredible 2 has only shifted a single sub-point. We criticized HTC for using Froyo on the Incredible S, and we're criticizing them again for still failing to give the new phone Gingerbread out-of-the-box. Thankfully the addition of HTC Sense keeps the Incredible 2 feeling fresh enough until an update arrives.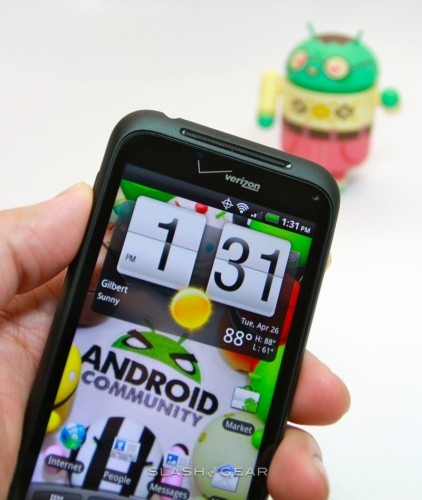 As we found with the Incredible S, the single-core Snapdragon may not be the fastest processor on the market today, but it offers a good balance of power for a mainstream device. You get 3G Mobile Hotspot functionality, Flash Player 10.2 support, and SRS WOWHD pseudo-surround sound processing, which does add some extra depth to audio but isn't going to convince you you're listening in a theater.
Missing, though, is the HTCSense.com integration the European version of the handset gets. Verizon's phone 't support the online tracking, remote access and other functionality, which takes a bite out of Sense's usefulness. We were willing to overlook its potential impact on the timeliness of core Android OS updates when it offered legitimately unique features, but when those add-ons are stripped away then it becomes more like a mere UI reskin.
As for benchmarks, in Quadrant Pro the Incredible 2 scored 1752.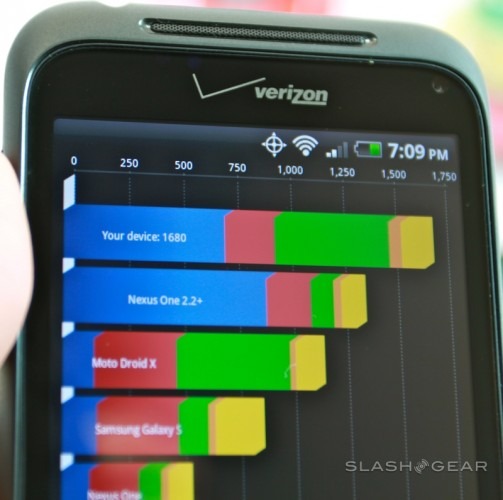 While SunSpider – the test of JavaScript performance in the browser – came in at 5728.9ms.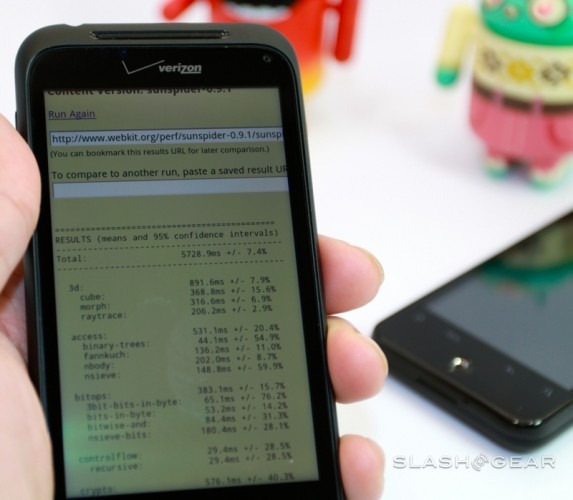 Camera
The DROID Incredible 2's main camera is, like on the Thunderbolt, a solid performer. Stills are crisp and well-balanced, in daylight conditions at least, and HTC's modified camera UI makes it easy to access the few custom settings – exposure, contrast, saturation and sharpness – on offer. There's more noise in low-light settings, unsurprisingly, while the dual-LED flash is strong but can leave closer subjects over-exposed (and backgrounds murky). Color accuracy is fair, and we prefer it to the unnatural hues some phones produce with over-enthusiastic post processing. As for the front-facing camera, that is sufficient for video calls but not something you'd want to rely on for any meaningful photography.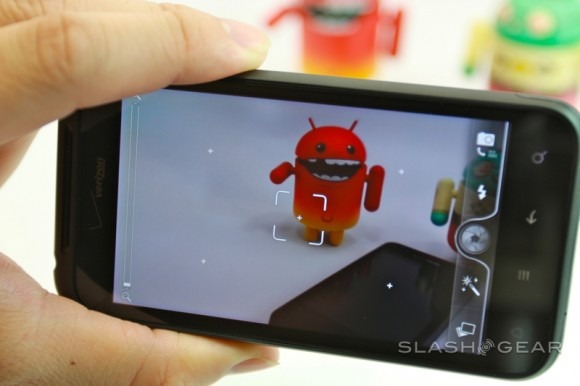 720p HD video turns out well, coping admirably with low-light situations and looking generally smooth and jag-free until you start panning more quickly. Then, as with most phone cameras, you get plenty of blur and tearing. We'd prefer 1080p HD, as on the Galaxy S II, but that seems to be a limitation of the Snapdragon chipset rather than the camera itself.
Sample video recorded with Incredible 2
Phone and Battery
Audio performance on Verizon's network was solid, with little in the way of glitches or distortion. Both we and callers could hear each other's clearly, likely helped somewhat by the integrated noise-cancellation system. What you don't get, of course, is 4G LTE connectivity from the HTC Thunderbolt and DROID Charge.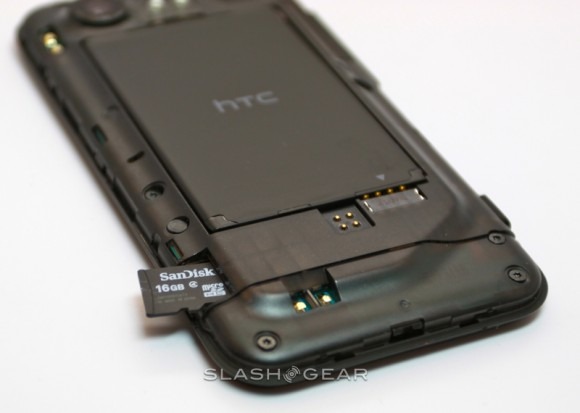 As with the Incredible S, the DROID Incredible 2 is capable of a day's use on a single charge. That's pretty much average for a current-gen smartphone, and of course you can extend runtimes by turning off some of Sense's social networking integration or cutting back on how frequently they check for updates.
Wrap-Up
At $199.99 with a new, two-year agreement, the DROID Incredible 2 by HTC is still cheaper than Verizon's 4G smartphones. However, as we said about the Incredible S, it's also based on technology that is being phased out: single-core processors are being replaced with dual-cores, and the Galaxy S II (review) shows that just because you have a high-speed CPU, it doesn't mean you can't have solid battery life too.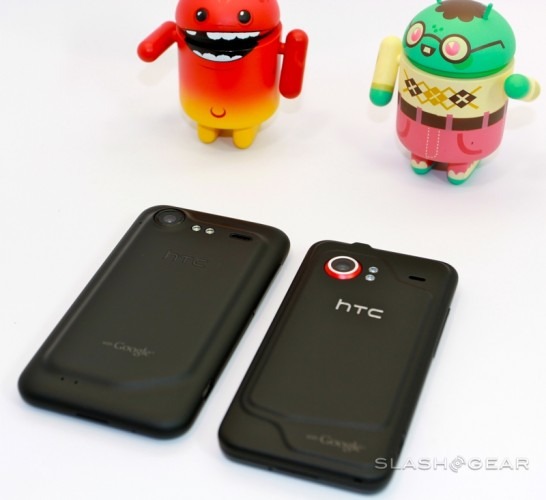 Given that, we've have liked to have seen Verizon price the Incredible 2 a little more competitively, though the 8-megapixel camera is some consolation. Our primary concerns are the absence of 4G and dual-core, which could prove limiting further down the line when more demanding versions of Android – and more data-heavy online services – are commonplace.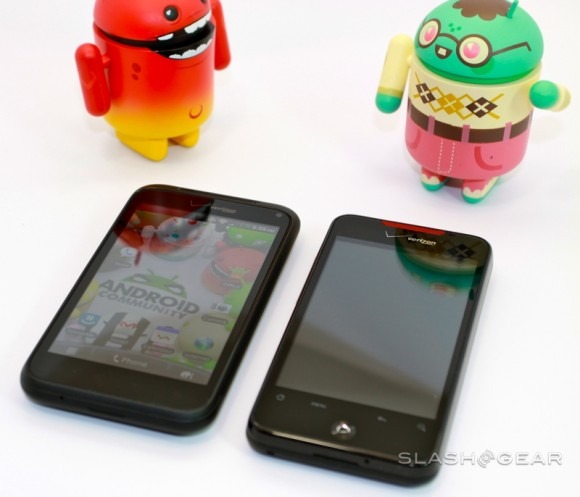 Still, for a midrange handset, the DROID Incredible 2 is a logical choice. Its name may no longer quite ring true – this isn't the "incredible" handset in the top spot of Verizon's range – but it's another good example of a reliable phone well suited to the mainstream audience.
DROID Incredible unboxing and hands-on
[vms 8c718b84cae0a0799dcf]