Droid 4 may launch on December 8th alongside Galaxy Nexus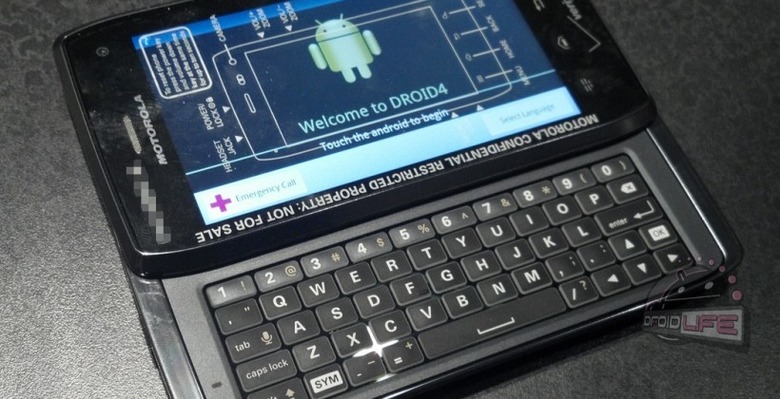 Verizon, could it really be? According to a leaked screenshot from the carrier's inventory system, December 8th may not only be the rumored release date of Samsung's highly anticipated Galaxy Nexus, but also the potential launch date for Motorola's Droid 4. Well, the 8th may become the most popular launch party date of the month after all, for all of you potential owners out there. December is certainly gearing up to be an exciting month for smartphone releases on the Android platform.
For all of you out there late to the Android party this month, The Droid 4, which was leaked in early-build photos, is expected to have a four-inch Super AMOLED Advanced display, slightly smaller than the similarly-looking Razr's 4.3-inch panel that uses the same display technology. The housing also takes its overall shape from the Razr, with the exception of the physical keyboard. Other features should include dual cameras, HDMI output, and full-HD 1080p video recording.
Operating system-wise, the Droid 4 is said to be running Android 2.3.5 Gingerbread. It's rumored that Samsung recently admitted that the Galaxy Nexus launch was delayed until December 8th, on Verizon as the carrier, and Verizon has also confirmed that the Galaxy Nexus launch was pushed back towards the month of December, with the Canadian release being on December 7th. Let's keep out fingers crossed, and we'll update you whenever we have more information.
[via Droid Life]