Motorola DROID 4 leaked in Beta build photos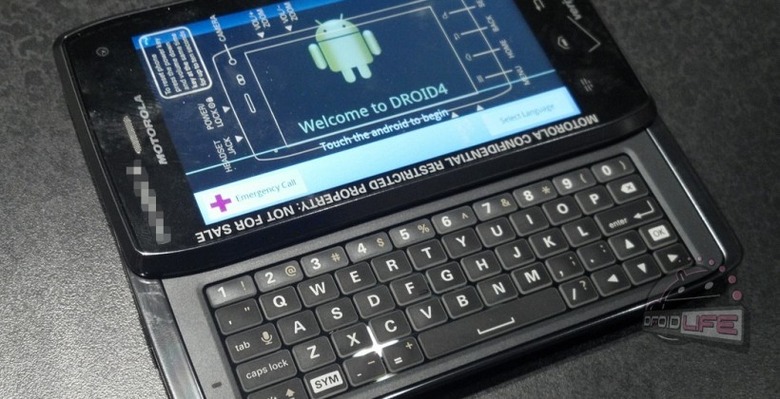 It appears extremely likely that the photos and specifications you're about to see belong to none other than the fourth in the basic-named DROID line from Verizon and Motorola. This is the DROID 4, if I may be so bold, ladies and gentlemen, and it looks rather similar to the rest of the very recent stylings of the Motorola family, having the same bent-in corners, dual ports (microHDMI and microUSB), and overall look of both previous DROID models and the ATRIX 2, the DROID RAZR, and the unconfirmed next-level XOOM tablet.
This device has a similar keyboard to what we've seen in the DROID 3, though now with slightly more raised centers on the keys and a a bit more space around the board. The display is said by a source speaking with Droid Life exclusively to be 4 inches and they've decided it's likely that it'll be Super AMOLED Advanced. The keyboard, they say, will not just be what we're used to from Motorola and their past QWERTYs, instead it'll be "illuminated" – lights! Like the DROID RAZR, this device will have a non-removable battery, and also just like the RAZR, this device will be working perfectly well with the MotoACTV.
This device is said to be running Android 2.3.5 Gingerbread, likely has an 8-megapixel camera on the back capable of recording 1080p video, and has some sort of front camera likely right around 1.3-megapixels. This device will of course be running on Verizon's 4G LTE network, and judging by the 1.2GHz dual-core OMAP4430 processor that the DROID RAZR is coming out with, we must assume that this device has something along those same lines, and it appears that the code-name for this device, "Maserati" has been tracked by Android Community back to the 27th of September. All signs point to a 2011 release. You gonna grab it?
See the gallery below for some comparative photos of similar Motorola products as of late including the DROID 3, what's possibly the XOOM 2, DROID RAZR, and ATRIX 2.
[via Droid Life]