Drobo drops 2TB & 4TB NAS prices; adds $50 holiday discount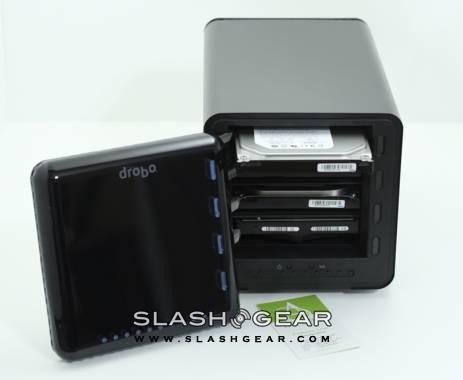 We're sizable fans of Drobo's "intelligent data robot" here at SlashGear – in fact it's one of the items in our Holiday Gift Guide - and since we're also sizable fans of cheaper prices it's a double-win for the company's latest deal.  Not only have prices on the 2TB and 4TB ready-built NAS' been permanently cut, there's also a $50 instant saving on those and the driveless entry-level Drobo.
Before the holiday saving, the 2TB pre-configured Drobo is down to $749 while the 4TB version is $999.  They both use Western Digital's 1TB Green Power hard-drives.  After the discount that's down to $699 and $949 respectively; the second-generation Drobo with both Firewire and USB 2.0 connections is down to $449.
You can get the saving by entering the code HOLIDAY in the coupon field at checkout.  If you're still undecided about whether Drobo is for you, check out our review of the first-gen model.