Driving Honda's Clarity Fuel Cell hydrogen car due March 2016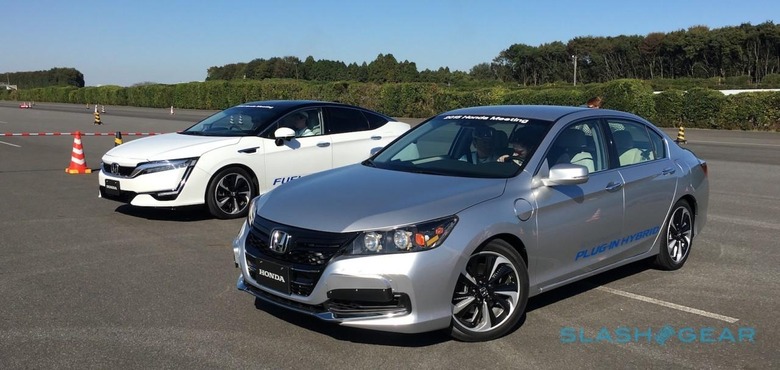 Honda's new hydrogen-powered car, the Clarity Fuel Cell, will go on sale in Japan in March 2016, the company confirmed today. Taking on the Toyota Mirai, the car – previously known as the Honda FCV – will be targeted at those in the outer suburbs with an appetite for green motoring, and co-exist with Honda's existing and upcoming all-electric and plug-in hybrid cars.
It's certainly a striking design, with the not-inconsiderable length exaggerated by the sizable overhangs front and rear. Honda actually reduced the size of its fuel cell powertrain versus the previous Clarity prototype, predominantly by slimming the control unit significantly.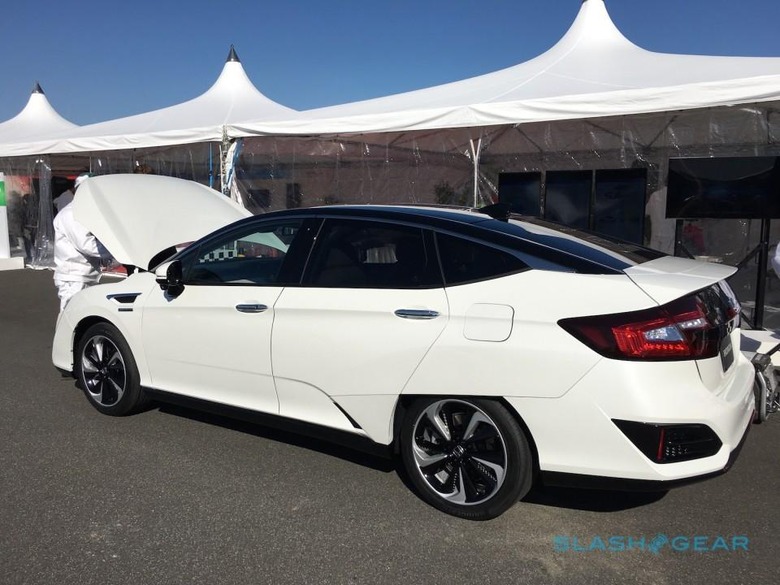 That, and rotating the motor – based on that of the prototype but with more power and torque, as well as being quieter – 90-degrees forward meant Honda could fit the entire drivetrain under the hood, where it's roughly the size of a traditional V6 gasoline engine. The li-ion battery packs are under the floor.
As a result, two hydrogen tanks can be fitted, one large one behind the rear seats, and a second, smaller one underneath them. The trunk is short but fairly deep, and Honda says it'll still fit three golf bags – presumably the other two potential passengers will just have to be the caddies.
Total range is expected to be in excess of 700 km (435 miles) though Honda says that's based on its own internal calculations for the Japanese market. Using US EPA metrics, range is predicted to be a Mirai-matching 300+ miles.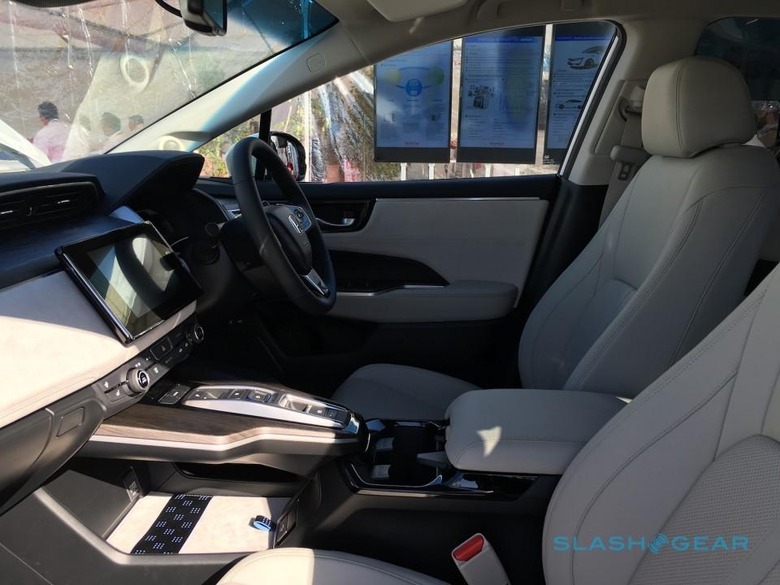 The fuel cell itself is rated at 3.1 kW/L, and it's thinner and lighter than the outgoing version. Inside, the cells are denser, and the stack has been reduced by around 20-percent in size.
Like the Mirai – though fitted as standard and more readily accessible – there's an external power port which can use the fuel cell system as a generator. Honda will offer the Power Exporter 9000 to plug in there, delivering a stable power supply that could be used during outages or even to keep medical equipment running in an emergency.
Honda says that a full tank of hydrogen in the Clarity Fuel Cell could keep the Power Exporter 9000 delivering juice for approximately seven days based on the average Japanese family use.
[gallerybanner p="411737"]
Since refueling hydrogen-powered cars is an ongoing headache given the infancy of current infrastructure, Honda has been doing some work there, too. The company envisages Smart Hydrogen Stations – compact localized generators – being deployed, using a new high-pressure water electrolysis system it has developed, and which could tap into whatever renewable energy supply might be available and appropriate for each particular site.
Inside, it's a typical large Honda sedan, with open-pore wood and metal-effect trim. Look back through the rear-view mirror, mind, and you see that the designers have slotted an extra window in-between the rear headrests, giving an all-important little slice of boosted visibility for when you're reversing.
Unfortunately I couldn't take the Clarity Fuel Cell out for much more than a quick spin around a short track, but first impressions suggest it's a similar proposition to the Mirai. It's quiet and power delivery is smooth, though it's not quite so quick off the mark as an electric vehicle. Stab the throttle and you get a faint whoosh of hydrogen being fed through from the tanks.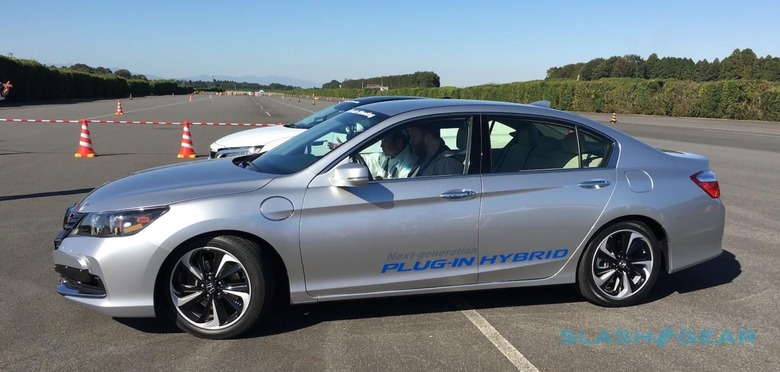 I also had the chance to briefly try Honda's newest plug-in hybrid, a sizable sedan with what the company says will be more than three times the range of the current Accord Hybrid.
Potentially more impressive than the extra range, however, is quite how much of the time you can spend in all-electric mode. Whereas anything more than moderate city trundling will see the current car's gas engine kick in, the new Sport Hybrid i-MMD Plug-In can manage highway speeds of as much as 70 mph without calling on traditional power.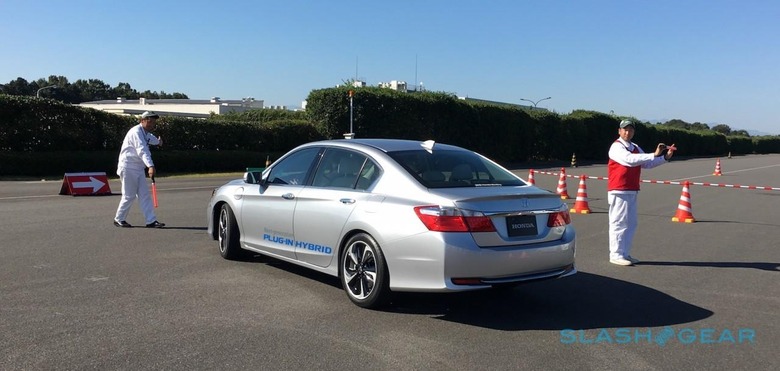 When that does kick in, it's hardly noticeable, either. The car can be driven in either electric-only mode or hybrid mode, but the transition between systems is practically invisible.
NOW READ: Inside Honda's self-driving car
Honda says the Clarity Fuel Cell will be priced at 7.99m yen ($63,595) in Japan including consumption tax, though the car will be offered on a lease basis only. Initially that will be to government and business customers the company has worked with on previous fuel cell trials, before individual sales begin.
US availability is only slated for sometime in 2016, with Europe following on. As for the new plug-in hybrid, availability for that too is something of a mystery at this stage.