Drive up to Colorado's huge tornado with this 360-degree video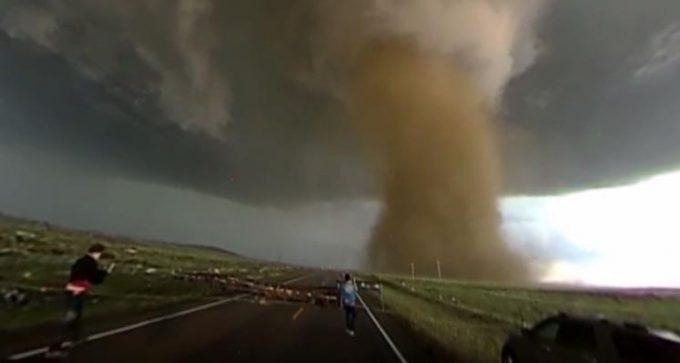 Want some of the thrills of heart-stopping adventure without, you know, the higher-than-typical odds of dying? Enter a new 360-degree video that shows storm chasers with a 360-degree video camera getting up close and personal with a big tornado in Wray, Colorado. The tornado just struck the other day and will live forever in the form of a surprisingly calm, entirely unnerving video 'near' the tornado's base.
The tornado touched down in Colorado a couple of days ago, being part of a storm that is expected to cause more tornadoes in parts of Kansas and Oklahoma. If you've never had the pleasure of experiencing one in person, this 360-degree video will get you about as close as possible through a screen. The video was recorded using a 360fly Note camera.
The video was published by AccuWeather on Sunday; whomever shot it appears to have mounted the camera on top of a car, and while rain drops obscure parts of the video, all the interesting parts — that is, the giant tornado, is more than visible. If you can, be sure to bump the quality up to 1440sHD to see it in the best quality.
This is one of the more exciting 360-degree videos out there, but as VR and 360 become more popular, people are whipping out their cameras can catching an increasing number of things in immersive ways. Want to capture your own 360-degree content? While you'll need a suitable camcorder if you want to record video (check out our Theta S Review!), there are several ways to capture 360-degree photos using your smartphone, including Google's Cardboard Camera.
VIA: Digg