Dream Chaser spacecraft conducts first successful atmospheric glide test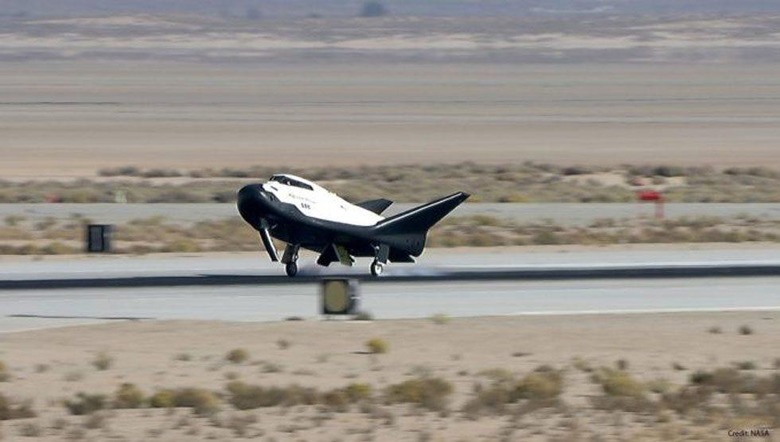 Sierra Nevada Corp. has announced that it has concluded its first successful atmospheric glide test. The Dream Chaser spacecraft landed at Edwards Air Force Base in California on Saturday. The successful glide test was able to verify the spacecraft handling qualities and guidance systems before the spacecraft can move on to the next round of testing.
Eventually, the Dream Chaser is hoped to be used for resupply missions to the ISS. Sierra Nevada Corp isn't meeting its original timeline so far. The company announced back in 2014 that it would conduct its first unmanned orbital flight in 2016. During the recent glide test, the spacecraft had no human pilot aboard.
Dream Chaser was carried aloft by helicopter and dropped to test its guidance systems. Dream Chaser landed on Runway 22L at Edwards, which is the same runway that as used by the long-retired space shuttles in the heyday of American space flight.
The Dream Chaser looks like a miniature space shuttle with wings bent up at angles. It's only about 1/4 the length of the space shuttle. The flight test had been planned according to reports, but the test wasn't announced publicly. This is likely because Dream Chaser crashed four years ago during its first approach and landing demonstration.
This test flight started at an altitude of 10,000 feet and tested the approach and landing capabilities. Dream Chaser was supposed to use its aerosurfaces to maneuver and then line up with the runway for a steep approach. The landing gear and nose skid deployed from the aircraft right before touchdown. Dream Chaser was originally supposed to carry astronauts into orbit but is now repositioned as an autonomous supply ship.
SNC is proud to announce the Dream Chaser® spacecraft had a successful free-flight test today @EdwardsAFB, with support of @NASAArmstrong. The Dream Chaser had a beautiful flight and landing! pic.twitter.com/lAn0n7FPsg

— Sierra Nevada Corporation (@SierraNevCorp) November 12, 2017
SOURCE: Sierra Nevada Corp