Dr. Mobile FreeStyle 1300n VIA Netbook Video Demo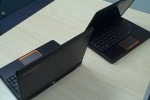 As brand names go, Dr. Mobile at least goes some way to telling you what the company is all about: ultramobile products like netbooks and notebooks.  Dr. Mobile first showed off its VIA-based netbook wares at CES back in January, and now HowToBeMobile has grabbed some hands-on video time with the new 11.6-inch Dr.Mobile FreeStyle 1300n.
Video demo of the Dr. Mobile netbooks after the cut
Hands-on, the FreeStyle 1300n reportedly feels sturdy despite the slim build, and the 11.6-inch display – running at 1366 x 768 resolution – is handy for fitting full webpages on-screen.  Performance from the VIA Nano 1.3GHz processor is left up in the air, but we're hoping that the experience from the Samsung NC20 – which uses the same CPU – carries over to the 1300n. 
There's also a fair degree of customization, with multiple colors and finishes available.  No word on pricing, but the first models are expected to arrive on the market in around a month.
Key specs for the FreeStyle 1300n:
VIA Nano 1.3GHz Processor
Windows XP® / Vista® Home Basic OS
11.6" WXGA  (WXGA, 1366x768)
FreeStyle 1300nWebcam 1.3M x1
Bluetooth (EDR2.0, DUN, PAN, A2DP + AVRCP)
Embedded mini PCIe device options
- TD-SCDMA / W-CDMA / EVDO
3600~3800mA  Li-Polymer Battery