Dr Dre's Beats Headphones Go Bieber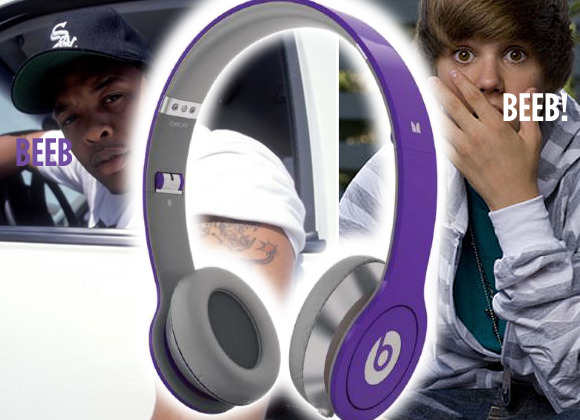 Oh god, why am I reporting on such a terrifying event? The newest artist to collaborate with Dr Dre's "Beats" line of headphones is none other than everyone's favorite little haircut, Justin Bieber. These lovely new purple and white music blasters will bring all of Bieber's fans the music "the way he intended it." Oh Dre, I know you've got to get that money, but why? Why would you go so Bieber on everyone? Why? I'll answer my own question by telling you how much these headphones cost: $199.95.
Those are the "Justbeats by Dr. Dre Solo Headphones" that are $200, the "iBeats by Dr. Dre Justbeats Edition" which are earplugs instead of full ear phones. Take a peek at the video below and see the tiny master work his magic in the studio with the godfather of gangster wrap, then have a look at the full press release below that:
Newest artist inspired headphone line from Beats™ by Dr. Dre™ and Monster® comes in Justin's signature favorite color purple and allows fans to hear his music the way he intended it

NEW YORK, Dec. 10, 2010 /PRNewswire/ — Pop music phenomenon Justin Bieber has launched a new line of headphones, Justbeats™ by Dr. Dre™, exclusively at Best Buy® stores in the U.S. and on BestBuy.com. As passionate about music and sound as he is about his fans, Justin saw the opportunity to team with Beats™ by Dr. Dre™ and Monster, a global leader in high performance headphones and AV accessories, as a way to bring his fans even closer to his music, to allow them to really feel the emotion that he wants each song to evoke. The headphones also express Justin's signature style by offering both on-ear and in-ear versions in Justin's favorite color purple. The Justbeats by Dr. Dre Solo Headphone (SRP $199.95™) and iBeats by Dr. Dre Justbeats Edition (SRP $119.95) include high tech features such as ControlTalk so that users can seamlessly answer a phone call while listening to music.

Beats by Dr. Dre has redefined the headphone category with its iconic style and mission to reproduce the full spectrum of sound that musical artists and producers hear in professional recording studios. By putting on a pair of Justbeats by Dr. Dre, Justin's fans will now hear the intricate details of a song, really feel the music and unlock its emotion, "just" the way he intended it.

To purchase the Justbeats by Dr. Dre headphones from Monster, visit Best Buy stores across the U.S., or visit www.bestbuy.com/justbeats and http://www.beatsbydre.com/justbeats/.

* The ControlTalk remote and mic are supported by iPod nano (4th and 5th generation), iPod classic (120GB), iPod touch (2nd generation), and iPhone 3GS and newer, but not all, Blackberry models. The remote is supported by iPod shuffle (3rd generation). Audio is supported by all iPod models. Requires software version 1.0.3 for iPod nano (4th or 5th generation), 2.0.1 for iPod classic (120GB), and 2.2 or later for iPod touch (2nd generation). Support for Blackberry varies by model. Subject to change.