DoorBot WiFi video doorbell hands-on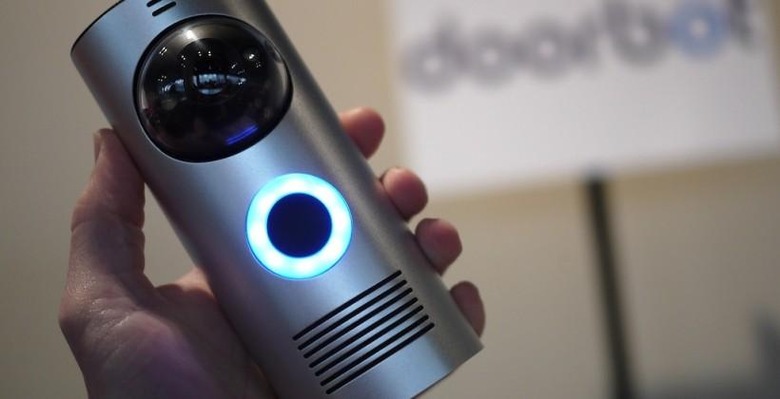 Does your doorbell need WiFi? DoorBot thinks it does, and the company crowdfunded its way to production having convinced enough backers that $199 wireless video-streaming door furniture with a companion iOS app was an essential part of the smart home. Now, with the first units shipping out, we caught up with DoorBot to try out the camera ourselves, and find out why soon the cloud might be keeping a record of your every caller.
It's not a particularly discrete device, though arguably it doesn't need to be. A half-cylinder that screws to your doorframe or wall – DoorBot supplies all the screws and fixings to suit different mounting types, as well as a screwdriver, and even a clip-on level so that you get it straight – it runs off a battery good for up to 12 months of "average" use, though if you've got mains doorbell wiring already installed it can optionally hook into that and recharge automatically.
The camera, mounted in the bulbous clear eyepiece section, can be moved around to suit different angles, and is flanked by two white LEDs for nighttime illumination. Underneath is the doorbell button itself, which flashes blue while it's connecting and lights solid when there's a link made – and then the speaker and microphone. The DoorBot team says the speaker was purposefully picked for being both loud and clear, unlike the traditionally fuzzy, hard-to-hear door intercoms.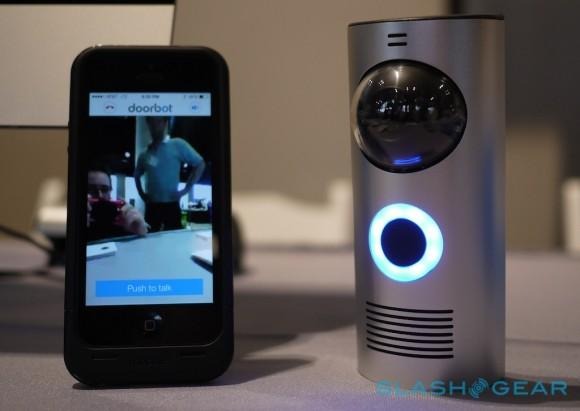 Press the button and the doorbell rings the app: you can associate multiple DoorBots with one copy of the app. There's not two-way duplex audio; instead, you press and hold a "talk" button if you want to speak to the person at your door.
There's also no integrated lock control, so if you want to actually let in whoever's visiting while you're out of the house – or even just upstairs in the bath – you can't do it remotely using DoorBot alone. The company told us that's because there are so many remote lock systems right now, it didn't feel the need to reinvent the wheel. However, there's integration with Lockitron's system, and if you log into your account through the DoorBot app you get an "Open Door" button on-screen.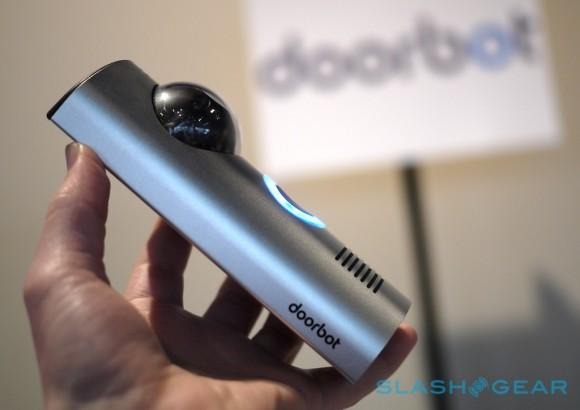 Meanwhile, in the pipeline is cloud storage of all of the video the DoorBot shoots. Right now, the company starts caching it online as soon as the button is pressed – that way you don't miss anything while a connection is made between the DoorBot and your phone – but the footage isn't saved. What DoorBot is planning is to store a copy, a little like a DVR for your doorbell, even if you don't answer.
That way, if you're out and you miss someone, you'll be able to look back through and see whether it was a person you might have wanted to see or someone trying to sell you encyclopedias. DoorBot plans to charge for the cloud storage – though the core functionality of live streaming will always be free, the company told us – though pre-order customers will get lifetime cloud access bundled in return for their early support. To sweeten the deal, DoorBot also intends to open up the online store for third-party video devices, such as web-connected CCTV cameras from other companies, so that you can access all your smart home footage from one central place.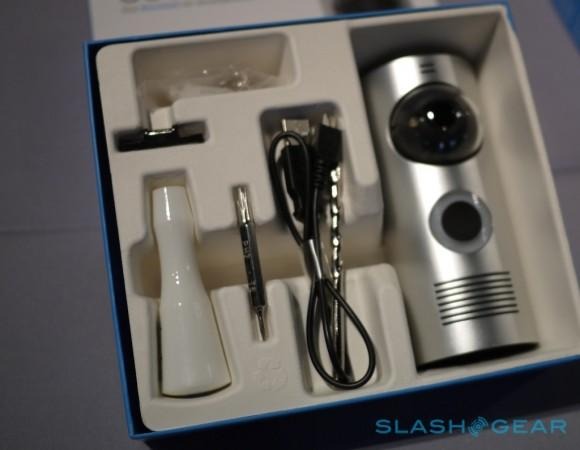 Performance overall depends on the speed of your wireless connection. In a WiFi-congested demo area, the DoorBot had some issues establishing a steady link, and even once it connected we had plenty of dropped frames and glitchy graphics. Audio particularly suffered, with plenty of lag between app and doorbell. However, in real-world settings your internet connection will probably never be so overloaded, and in the unlikely case the signal can't get through, the upcoming DVR feature will keep a record for you.
Viewed in isolation, DoorBot feels a little like it errs on the side of geek-gimmick. Looked at as part of a whole-house smart home installation, however, and it starts to makes a lot more sense. By focusing on one aspect of the security provision, it means it can more readily be paired up with other smart home kit, with less overlap and redundancy. The price ins't ridiculous, and the convenience of only having to think about charging the battery once a year can't be overstated. Still, remember to factor in the cost of a remote lock if you want the full smart home experience.