Don't Starve Together lands on PS4 in September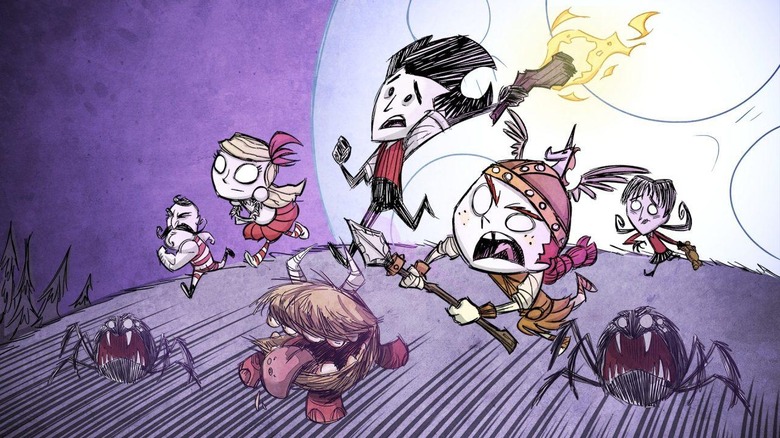 Klei Entertainment has announced that Don't Starve Together, a multiplayer spin on the much loved single-player game, will be arriving on PlayStation 4 next month. Don't Starve Together will offer up both split screen and online multiplayer when it lands on September 13, and it will come as part of a new pack that bundles every piece of Don't Starve content together in one package.
Dubbed the Don't Starve Mega Pack, this features not only Don't Starve and DST, but also the two expansions for the single-player campaign: Reign of Giants and Shipwrecked. Alongside the games and expansions, players will also get a couple Don't Starve themes for their PlayStation 4. The Don't Starve Mega Pack will run $26.99, but those who own the original Don't Starve on PS4 will be able to pick it up at 60% off.
There's a decent chance you're among the people who already own Don't Starve, as it was offered for free through PlayStation Plus back around the time it launched. Judging from the PlayStation Blog post penned by Klei, it appears that the only way to get Don't Starve Together may be through buying the Mega Pack, but when owners of Don't Starve get it at a discount, it essentially means you're paying around $10 for Don't Starve Together and whatever single-player expansions you may be missing.
For the uninitiated, Don't Starve is a wonderful little survival game with a unique art style. In a world packed to the brim with survival games, Don't Starve manages to stand out from the rest, in large part because it's actually finished and not in Early Access. Don't Starve Together ramps the intensity up, and for those who like survival games, Don't Starve and its multiplayer counterpart would likely be considered an essential purchase by many who have played it.
SOURCE: PlayStation Blog