Domino's channels Amazon with its 'Easy Order' pizza button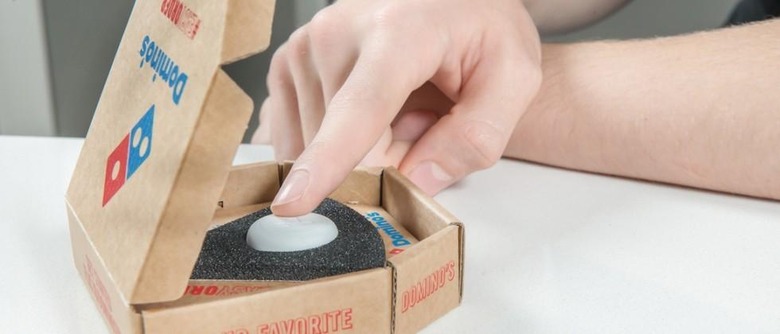 Amazon's one-touch Dash Buttons have turned out to be quite a hit, letting Prime members quickly order common household items with the press of a Bluetooth connected physical button. But now, Domino's has stepped in and improved the concept, marrying it with the greatest thing ever: pizza delivery. The pizza chain has just announced its own "Easy Order" button, complete with a cute little cardboard delivery box, that lets users order their favorite pie for delivery with just one press.
As of now the physical buttons are limited to the UK, with the first batch being released in December as part of a competition, while a wider rollout will take place in February 2016. We can probably all agree, however, that Domino's would be insane if they didn't bring this to the US as well.
The Easy Order button is actually very similar to Amazon's Dash Button in terms of the tech used, which, in the latter's case, was shown to be relatively easy to re-program to do other things. The Domino's option to connects to its mobile app with Bluetooth, and just requires users to register on the company's website, putting their address, payment info, and preferred pizza order on file. From there, once the button is pressed, Domino's knows what to make, where to send it, and how to charge for it.
For those who can't manage to get their hands on one of the physical buttons right away, Domino's is also adding a Digital Easy Order button to their official apps, offering the same functionality with just a tap on the screen.
SOURCE Engadget