Dogecoin NASCAR Ford Fusion makes debut in photos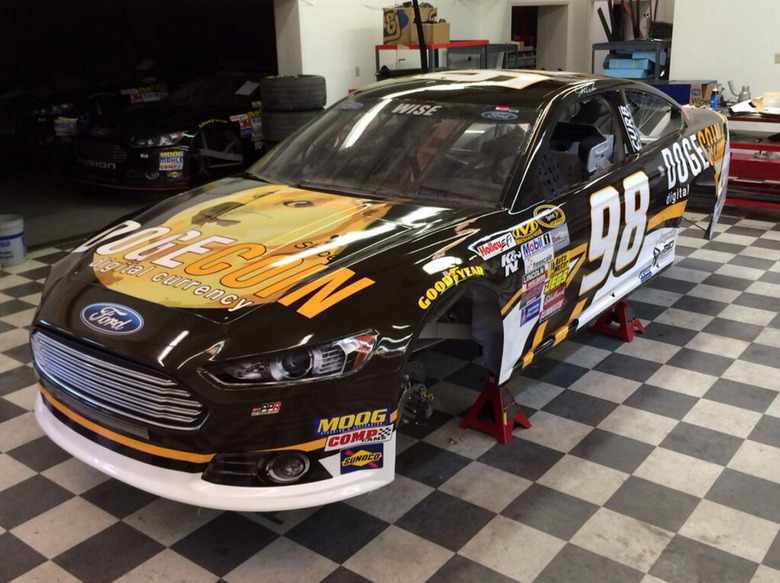 There's nothing like a good virtual currency-based NASCAR to get your morning started right. The folks at Phil Parsons Racing have let us know that they're releasing photos today of the first Dogecoin-funded NASCAR vehicle.
This vehicle is no less than a Ford Fusion and it'll be driven by NASCAR driver Josh Wise. Needing cash earlier this year, the driver worked with the Dogecoin community to raise funding in exchange for sponsorship graphics over the length and breadth of the vehicle he'll be driving.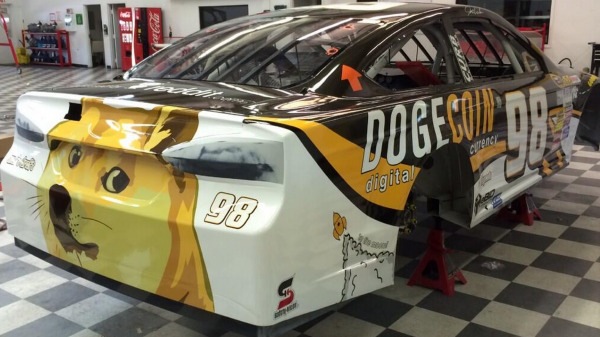 Voting on colors and makeups earlier this year as well, several images of possibilities are featured here as well, courtesy of Dogecoin. This vehicle could have had a white base, black, or gold. In the end, it would appear that the final look of the machine is a mix – but mostly black.
This vehicle will be racing in the Aaron's weekend Sunday event at Talladega Superspeedway. That'll be the NSCS Aaron's 499 (188 Laps, 500.08 Miles), and at the moment we're not entirely certain the race will be broadcast, but if it is, it'll be on FOX. Below you'll see the full race from last year at this location with NASCAR.
Photos of the final version of the vehicle come from Phil Parsons Racing and are being featured on the team's Twitter account. This vehicle will be burning up the speedway starting at 11:30 AM Central Time Sunday, May 4th.
VIA: @PPR98