Dodge Talks New 2018 Durango R/T and SRT Options in Chicago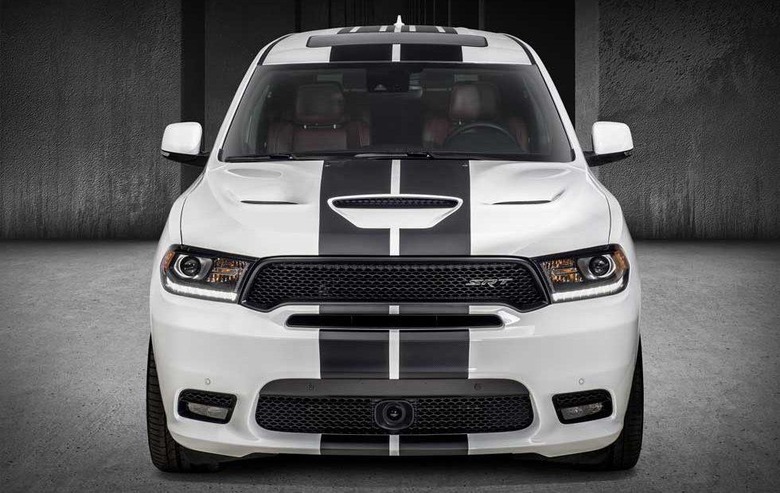 Dodge is showing off the performance 3-row SUVs at the Chicago Auto Show with details on the 2018 Durango R/T and SRT models. Both models will be available with new factory-custom stripes in five colors. Buyers will also be able to option the SUVs with performance exhaust systems for improved flow and better exhaust note.
Durango SRT buyers will be able to choose an available carbon fiber interior package and performance lowering spring package. That lowering spring package drops the Durango SRT by 0.6-inches compared to stock and promises improved handling. Dodge still holds the crown for the most powerful and fastest 3-row SUV with the SRT model.
The SRT has a 475hp Hemi V8 that can push it down the quarter mile in 12.9-seconds and it can still tow 8,700 pounds. Those dual-center exterior stipes will add $1,195 to the price of the Durango models and come in bright blue, flame red, gunmetal low gloss metallic, low gloss black, and sterling silver metallic. Buyers can order the stripes starting in March 2018.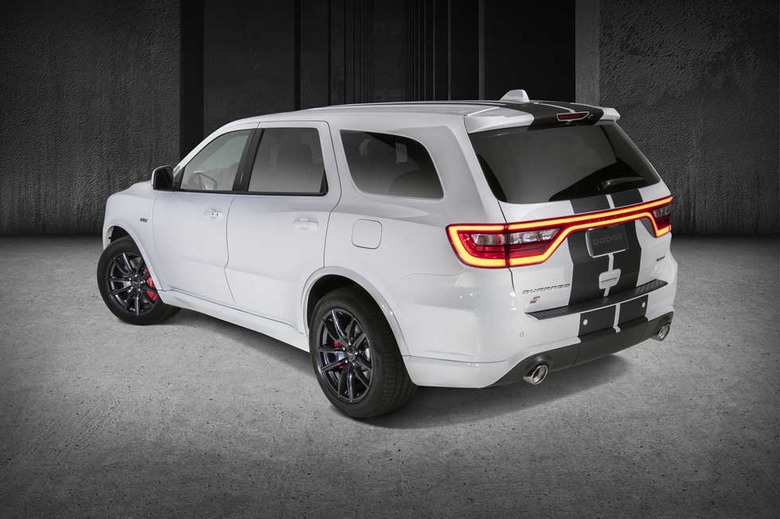 That performance exhaust system is made from stainless steel and has 4-inch tips out back. It will cost $1,850 and is available for SRT models starting in Q2 2018. A version for the Durango R/T is offered right now and costs $1,595. The SRT lowering springs sell for $325 and launch in March.
That SRT carbon fiber interior appearance group wraps the instrument panel and door bezels in real carbon fiber. It also includes a Dinamica soft-touch headliner and accent paint on speaker trim rings. It will launch this month for $2,495. We spent some time inside the 2017 Dodge Durango R/T, check out that review for details.