Dodge Dart channels Alfa Romeo spirit for 2012

Alfa Romeo won't be making its return to the US market until 2013, Fiat announced back in September, but those hoping for a dash of Italian heritage will at least have the new Dodge Dart to tide them over. Freshly announced, and set to make its official debut at the North American International Auto Show in early January, the 2013 Dart may have a US badge but underneath it's based on Alfa Romeo's Giulietta.
Three engine options will be available at launch, two Tigershark and one low-volume MultiAir. Buyers will have the choice of the Tigershark 16-valve 2.0-liter engine, a 16-valve 1.4-liter MultiAir Intercooled Turbo engine, and a new Tigershark 16-valve 2.4-liter MultiAir four cylinder engine, along with three transmission choices.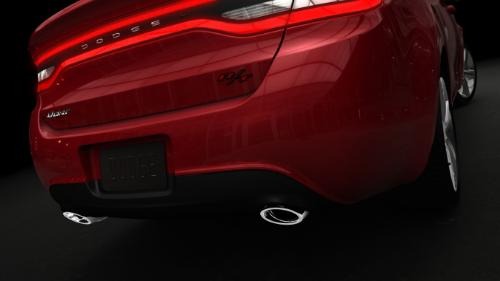 As for styling, Dodge has cribbed from its own Charger and other cars to put together full-width LED "racetrack" tail lamps and an integrated dual exhaust, in addition to a tailored split-crosshair grille, projector headlamps and fog lamps and accentuated fenders. The company calls it "athletic and muscular"; we'll wait until the full car is visible early next year to make our minds up entirely.