dmedia G400 WiMAX MID with digital TV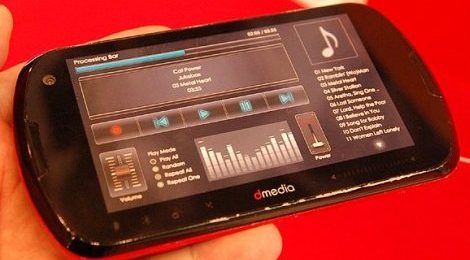 From one MID to another; the dmedia G400 may not boast quite the range of wireless technologies as the UMID MID (WiBro being the obvious omission) but with WiMAX present that's still more 4G capability than many people have the coverage for.  With a choice of 3.8 or 4.3-inch WVGA touchscreens, GPS, WiFi, HSDPA and Bluetooth, the G400 errs on the side of media functionality rather than trying to put a tiny version of your office in your pocket.
Streaming audio and video, including NextWave's MXtv mobile broadcast service, mobile video conferencing and VoIP are all supported.  There's also optional DVB-T/H, ISDB-T or T-DMB mobile TV tuners.  Other specs are mysteriously absent: it looks to use a SiRFprima SoC with an ARM11 core, 3D graphics acceleration and video decoding, but internal memory is unknown (there's a microSD slot, though).
The G400 MID measures 5.4 x 2.8 x 0.5 and weighs 7.1 ounces; it has a 1400mAh battery.  Availability is expected sometime in the first half of 2009, but dmedia will apparently be officially launching it at CES 2009 in January.