DJI's FPV drone racing goggles tap a 120fps camera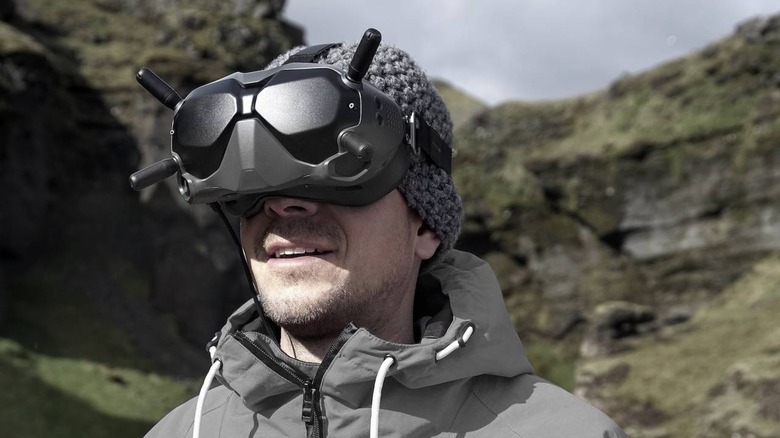 DJI has a new way to get a drone's eye view, with the DJI Digital First Person Viewing (FPV) Transmission System pairing live-streaming video with a set of digital goggles. Targeting the growing field of drone racing, along with videographers wanting a higher framerate from their footage, the system promises digital quality with latency to compete with traditional analog streaming systems.
It consists of a number of components, of which the FPV goggles are just one part. The core is the DJI FPV Air Unit Module, which uses a two-way data communication system with a range of up to 2.5 miles.
Its latency clocks in at 28 milliseconds, end-to-end, with an anti-interference technology to reduce the likelihood of dropped frames or downtime. A "Focus Mode" promises to narrow down the signal bitrate to the center of the frame, for situations where interference is more likely. Up to eight different 5.8 GHz channels are supported, so that eight drones could be flown under a single system.
Video quality isn't going to put modern 4K cameras on drones to shame, mind. It tops out at 720p, but the trade-off is that you get 120 fps at that resolution. DJI records both to the FPV camera mounted on the drone, and to the FPV goggles, on a microSD card in both. Alternatively, if you don't mind sacrificing some frame rate, the camera can record 1080p at 60 fps. The goggles' stream maxes out at 720p 60fps.
The camera itself offers three modes: racing, standard, and LED. Racing mode is the default for races, with a higher saturation rate so that brightly-colored objects – like obstacles in the course that need to be avoided – can be more readily identified. Standard mode is more focused on content capture, with more of the original details. Finally, LED mode increases color saturation and reduces image noise for low-light settings. There's a 150-degree ultra-wide-angle lens.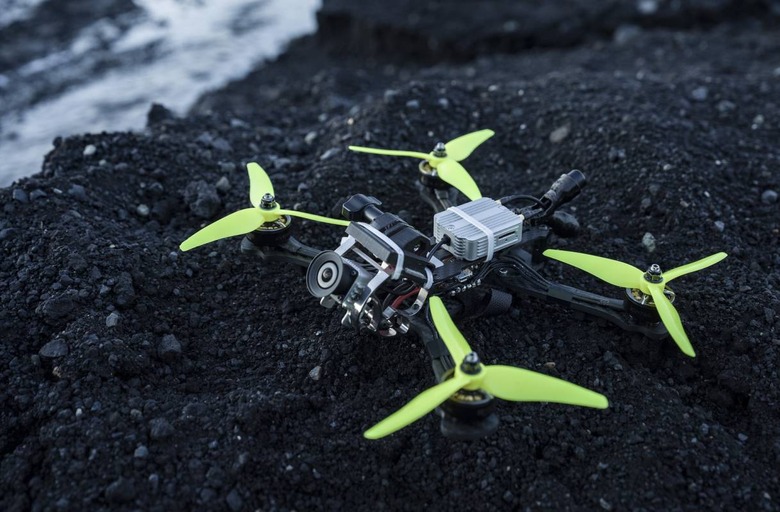 All of the components are controlled by the DJI FPV Remote Controller, which takes responsibility for synchronizing all the settings across each part. There's an Audience Mode which allows any pilot to drop into the live-stream of another racer on the same system, and monitor their progress.
The DJI FPV System will go on sale from July 31. It'll be offered in two bundles, the cheapest being the FPV Experience Combo, at $819. That comes with the FPV Goggles, two FPV Camera and Air Units, and all the required cables and antennas. A $929 FPV Fly More Combo will come with the FPV Goggles, Air Unit, FPV Camera, and Remote controller, together with the cables and antennas.