DJI Ronin-SC gimbal packed with features for mirrorless cameras at $440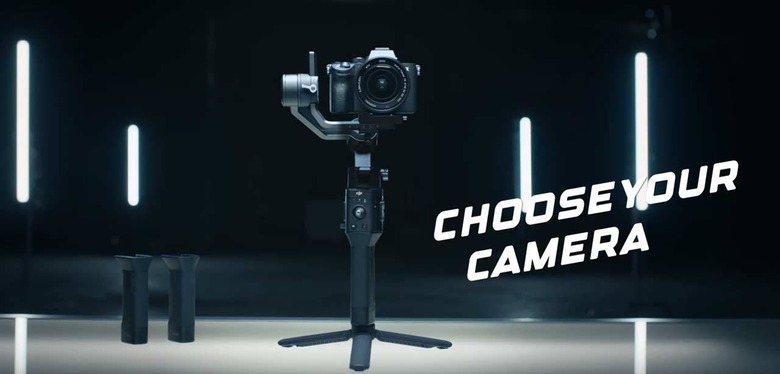 Today DJI introduced a new $440 gimbal that allows mirrorless camera users to take command of stabilization in videos of all sorts. This machine is simple-to-use, relatively small, and right on the high end of all the pro points. DJI suggests on their site that "due to limited new product availability," they'll only sell two units to each prospective customer.
This machine is able to work with a wide variety of cameras and accessories – pretty much anything that'll fit with its holes and/or ports. Accessory connections include a 1/4" Mounting Hole, 3/8" Mounting Hole, Camera Control Port, Accessory Port, USB-C Port, and an RSA Port. Users will be able to connect wirelessly with the machine using Bluetooth 5.0, with an app for iOS or Android. The iOS app requires iOS 9 or above, and Android requires Android version 5 or above.
Tested payload for this gimbal is under 2kg – that's under 4.4 pounds. So don't go attaching a big sack full of mercury or anything strange – that won't work. Angular vibration range is ±0.02°, and maximum controlled rotation speed is 180°/s for pan, tilt, and roll axis control.
Mechanical endpoint range for pan axis control is 360° continuous rotation. Mechanical endpoint range for tilt axis control is between -95° and +220°, and roll axis control is -202.5° to +112.5°. Controlled rotation range for pan axis control is the same as mechanical endpoint range, while tilt axis is down to -90° to 145°. Controlled rotation range for roll axis control is plus or minus 30°.
The battery inside this gimbal has a capacity of 2450mAh. That COULD be a very good thing – depending on how good this machine manages power. We'll only know for sure once we get one in for review! DJI says the battery can last for up to 11 hours, which seems pretty incredible!
This machine can be attained from DJI online for approximately $440 USD on its own. There's also a "pro combo" that adds an rss splitter, screw, focus gear strip, focus wheel, focus motor rod mount, and a focus motor for $540. Both versions are available starting today.