DJI Phantom 4 release detailed for super-smart future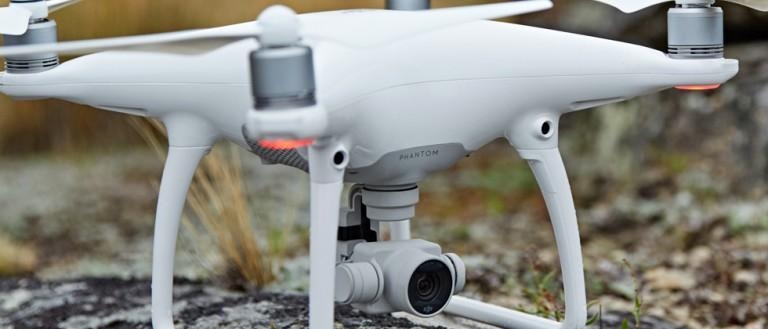 The next generation in what DJI describes as "intelligent flying cameras" has been initiated with the DJI Phantom 4. This drone – as we otherwise know it – is coming to the public with a stack of technology never before offered in a consumer edition drone. This includes advanced computer vision and sensing technology, made to roll with new features like its Obstacle Sensing System, ActiveTrack and TapFly functionality.
This Phantom 4 will work with a newly optimized TapFly function, allowing users to double-tap a destination, then fly there using the most optimal flight route. Paths can be changed mid-route, as well.
TapFly for the Phantom 4 includes obstacle avoidance – as does ActiveTrack.
With ActiveTrack, the Phantom 4 keeps its camera centered on one single subject, no matter where the drone is moving. This is a mode, able to be activated while filming a video.
The drone will fly behind you – if you are the subject for focus, that is – and will keep its camera on you as you move.
There's a new "pause" button as well.
This pause button allows the Phantom 4 to halt all autonomous flight at any time, making the drone float in space – hovering wherever you tapped it.
The Phantom 4 works with an aerial-optimized 4K imaging system, now with "improved optics for better corner sharpness and reduced chromatic aberration." This drone also has DJI's signature Lightbridge video transmission system, which allows users to watch what the drone's camera sees in HD in real-time up to 5-kilometers away (that's 3.1 miles).
This newest drone in the DJI line also has a Sport Mode which allows it to travel at 20 meters per second (45 miles per hour).
The DJI Phantom 4 will cost you a cool $1,399 USD and will be available for pre-order on March 1st, 2016.
Units will be shipped and will start arriving on March 15th, 2016 – they'll be available in stores on the 15th as well.
Above you'll see a gallery of DJI Phantom 4 images. Below you'll find the recent history of the DJI drone line.