DJI Osmo Mobile 3 gimbal makes iPhone camera magic (Android too)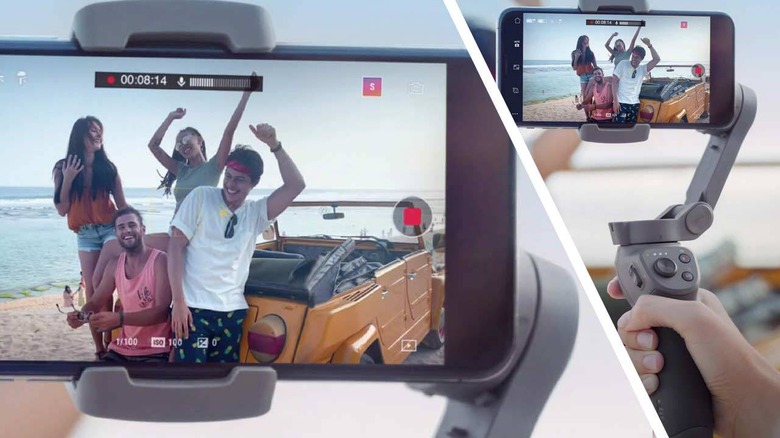 There's a new gimbal from DJI in the universe, and it goes by the name Osmo Mobile 3. This piece of hardware is made to turn your smartphone into a professional movie-capture beast, working with more than just the standard gimbal stabilization features. This gimbal has gesture control, ActiveTrack 3.0, and the ability to "Quick Roll" between modes with extreme smoothness.
If you're here ONLY to find what's changed between Osmo Mobile 2 and Osmo Mobile 3, you're in luck. The changes are few, but relatively major. This new model folds down into a slightly smaller package, has a grip tripod, and has a new balance system where "only the roll axis needs to be leveled."
The new model has a significantly improved phone holder system that allows for tiny adjustments on the fly. Also the bottom of the phone is no longer blocked by the holder, so you can keep it connected to a USB cord to charge if you do so wish. OM3's M button switches between portrait and landscape mode (Quick Roll), and there's a new "standby mode" so you can use the phone for non-gimbal stuff while it's still held by the gimbal, but the gimbal is folded.
There's a new Gesture Control, a new Story Mode, and new Smart Shooting Modes in the app. OM3 works with ActiveTrack 3.0, a new Sport Mode, and a combination of its 3-axis gimbal stabilization and electronic image stabilization (EIS) to make super-smooth Hyperlapse videos.
Osmo Mobile 3 works with an app that's controlled by its physical buttons. THere's a joystick, a switch, and a pair of control buttons on the handle of the gimbal that allow the user to avoid ever touching the display of the phone.
Gestures are also a part of the control scheme, here, with features like ActiveTrack 3.0. This system allows the user to press the trigger, make a gesture, or select a subject on the smartphone's display to start tracking a subject. With ActiveTrack 3.0, the gimbal can be set on its own and will move the smartphone to follow the subject automatically.
This system is available through the official DJI online store and will likely be in stores very, very soon. You'll be dishing out a cool $120 USD (or thereabouts) for the device when you hit the buy button.
NOTE that some features work with all phones, while others only work with iOS. Access to the Slow Motion mode in-app only works with iOS devices, for example. You can use this gimbal with almost any phone, but only those that run the app will be able to take advantage of the physical buttons.