DJI and Hasselblad team for a 100-megapixel camera drone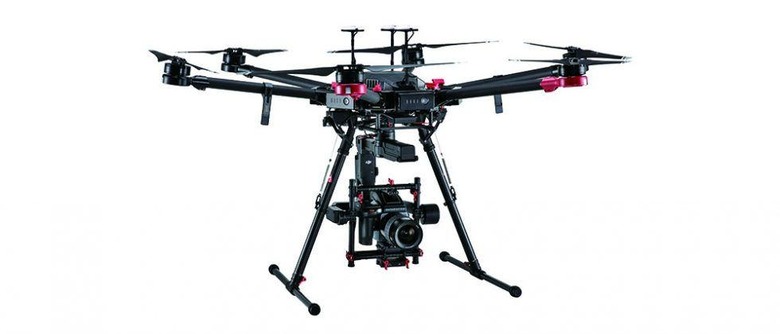 Not satisfied with the abilities of your current camera drone? DJI has the alternative, and it comes in the form of an M600 Pro drone coupled with a camera that can capture 100-megapixel photos. The two companies are currently showing off the product at NAB, and they'll be launching it for purchase some time in the third-quarter of this year. Joining the drone and camera will be a Ronin-MX Gimbal.
This new 100-megapixel aerial solution is a combination of three products: the DJI M600 Pro drone, the aforementioned Ronin-MX Gimbal, as well as Hasselblad's H6D-100c camera. When combined, these products enable drone operators to capture very high resolution photos from the sky. The camera boasts a large 53.4mm x 40mm sensor, among other things, for superior low-light performance.
The gimbal, of course, keeps the camera stabilized while in the air. The Ronin-MX gimbal is said to be resistant to strong G-forces, and it uses motors to keep the camera steady despite the drone's movements. The drone itself, meanwhile, is one of DJI's professional-tier solutions, bringing with it half a dozen rotors and a Lightbridge 2 transmission system, as well as half a dozen Intelligent Flight Batteries and a dust-proof propulsion system.
The DJI drone also has a D-RTK GNSS navigation system for guidance, and it utilizes 3D positioning that operates down to the 'centimeter-level.' DJI boasts that this is more accurate than the typical GPS/Barometer/Compass systems used by competing products, which the company says makes it highly suitable for things like scientific and industrial use. Of course, consumers in need of pro-tier gear for amateur products will also find the new combo exciting.
Many companies are utilizing drones for commercial and business-related applications, including insurance companies that use the drones for surveilling and assessing large plots of land or potential damage to high structures. Some companies have also used the drones for evaluating equipment during times when human access is limited, such as Verizon following a hurricane. The FAA started approving drones for use by movie studios as far back as 2014.