DJ Hero controller gets FCC teardown, flaunts manual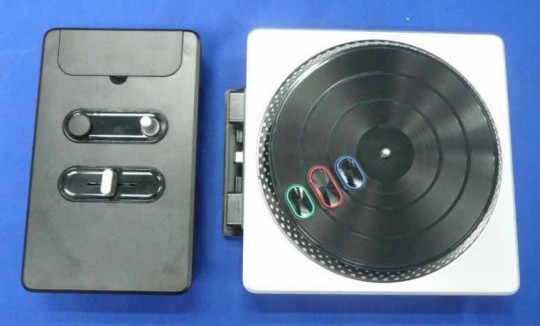 Poorly framed, low-quality photo?  Non-descript but brightly colored background?  It can only mean one thing: the FCC's team of crack photographers have been at it again, and in this case it's the DJ Hero controller that has born the brunt of their traditional teardown.
As well as the controller – which is promptly opened up and revealed to contain lots of expensive Activision air – there's the user manual, which finally confirms how the system can be switched between left- and right-handed modes.  Perhaps unsurprisingly, that relies on a latching mechanism on the turntable section that slots into a hole on the side of the mixer section, with a handy blanking-plate to cover up the mess.
It also confirms that a USB receiver dongle will be required to connect to the PS3 and PS2, though again we saw that coming.  So, not much in the way of surprise here, but since we love to see gadgets dismantled it'll tide us over until the next teardown.
[via Kotaku]