DIY Vacuum Tube iPod Amplifier and Speakers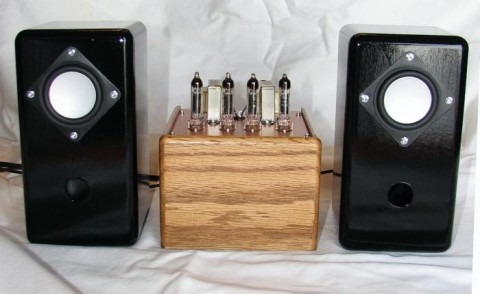 There are great presents, and then there are truly awesome presents: this home-built vacuum tube iPod amplifier and speakers falls most definitely into the latter category.  Given to Peter Redmer by his engineer father, the setup consists of a quad-tube custom amp in a hand-made wood and copper chassis, together with a pair of custom black lacquer speakers.
Inside the box there's a pair of OP275 dual opamps, each driving a pair of 5902 output tubes for each channel.  Although power output is modest, at just 1.25W per channel, it's really all about matching the warmth of those vacuum tubes to the output from an iPod: volume control is done by the PMP itself, with the amp gain tweaked to work best with an iPod's headphone socket.  Meanwhile the speakers are custom made with a 2-inch full-range driver, bottoming out at 120Hz.
Mr Redmer Sr. is now considering making a matching subwoofer to go with the system.  I'll leave the final judgement up to Peter, though: "sounds as clear, crisp, and detailed as small tube-driven speakers can sound, and blows my Altec Lansing portable iPod stereo out of the water."