DIY ruggedization for laptops, cellphones & cameras tested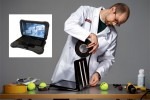 There are quite a few companies out there who will sell you a ruggedized laptop, cellphone or digital camera, but they'll also help themselves to a healthy amount from your wallet in return.  The gang at Popular Mechanics decided to see if – with only the sort of typical supplies you could find at Home Depot and Staples – they could make their own versions for a whole lot less money.  That, of course, provided the ideal opportunity to give one of Dell's Inspiron 1545 notebooks a good kicking.
To protect the Dell, they built their own rugged exoskeleton and a custom waterproofing system that managed to survive a large cup of hot coffee spilt on it.  It also came through an 8ft drop, as you can see in their test video.
As for the cellphone, they found they had the best results by vacuum-sealing it using the sort of machine you might save food in.  After a first attempt which shrink-wrapped all the buttons down, a second run produced something you could actually use as well as drop into water; unfortunately you'd need to break the seal to recharge it, unless of course you had a WildCharge system to hand.  Finally the camera, which had mixed results – the zoom lens presenting maybe the biggest issue – and which survived a 5ft drop but not an 8ft one.
[via GottaBeMobile]