DIY Racing Hardware Sim Gets Hacked BMW Instruments [Video]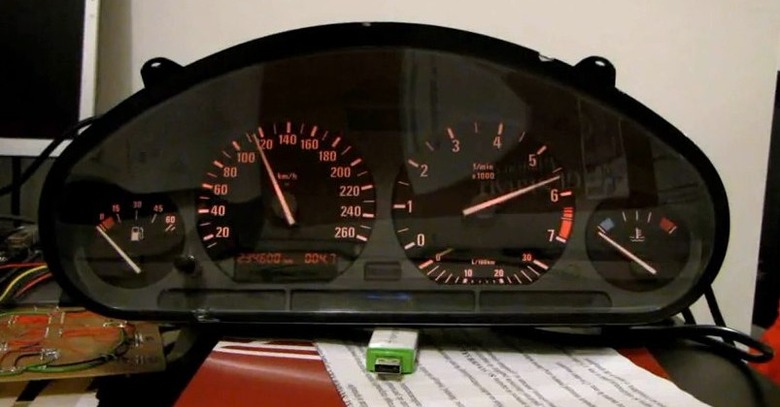 Multi-screen PC gaming setups have made racing simulators all the more engrossing, but nothing says "realism" like real parts hacked from a car and hooked up via USB.  Alex Rosiu has kicked off his DIY Racing Hardware Sim with the instrument cluster from a 1992 BMW 325i, using an Arduino to control the speedo and rev counter along with the various lights.
Video demo after the cut
"The system uses a PC application (written in C#) to receive gauge data from Live For Speed via UDP (using OutGauge), which it then sends over USB (serial protocol) to the Arduino board. The Arduino board processes the received data and activates the corresponding lights in the dashboard module" Alex Rosiu
So far the full beam, turn signal, traction control, parking brake, shift and redline lights are all hooked up and working.  Next on the list are the fuel tank and water temperature dials, before he moves on to creating an H-pattern gearshift from the guts of a force-feedback joystick.
It's all linked up to Live For Speed, and the physical indicators perfectly mimic the on-screen virtual dials.  While we're all for huge, high-resolution displays here at SlashGear, we've also a major soft spot for authentic physical dials, gauges and blinky lights; why hasn't a third-party peripheral manufacturer filled the niche for a standalone dashboard for racing sims yet?
[Thanks Andrew!]